Best Gaming Deals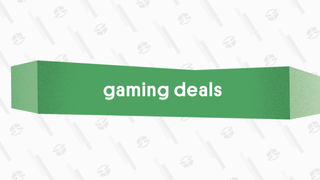 Best Gaming Deals
The best deals on games, consoles, and gaming accessories from around the web, updated daily.
Featured Deal: LEGO Friends Central Perk Cafe | $50 | Amazon | Clip coupon
These are the best LEGO deals for November 2020.

If you're looking for something to occupy your quarantine hours, why not pick up a new LEGO set or two? They're mentally stimulating, whether you're building to instructions or just creating things from scratch, and they're a great activity whether you're solo or with family.
Right now, you'll find solid savings on LEGO sets inspired by Super Mario, Star Wars, Minecraft, Spider-Man, and more. Scroll on for today's best LEGO deals!
Amazon has a number of LEGO Speed Champions sets for 20% off the list price right now. The Ferrari F40 Competizione and McLaren Senna are just $12 apiece right now, while a two-pack of a Dodge Challenger and Dodge Charger is $24 and a pair of a 1967 MINI Cooper S Rally and 2018 MINI John Cooper Works Buggy is $40. Scope 'em out!

G/O Media may get a commission
10" LED Ring Kit
If you've already snagged the core LEGO Super Mario building set that comes with the blocky, iconic plumber himself, then now you can begin adding onto your plastic levels with the very wide array of expansion sets. Amazon has many of them for 20% off right now, including the Guarded Fortress expansion, Toad's Treasure Hunt, and Piranha Plant Power Slide.

And if you don't have the core set, it's available at full price for $60, although we expect that it may become scarce as the holidays draw nearer!
Clip the coupon on the page

Save $10 right now on the familiar Central Perk cafe location from the classic NBC sitcom, Friends. This 1,070-piece LEGO Ideas offering comes with minifigs for all six of the key characters, as well as employee Gunther, and is a nostalgic blast from the past at a surprisingly great price-per-brick value. Clip the coupon to get the full savings.

This 540-piece Mandalorian set sadly doesn't have any Baby Yoda in sight, but what it does have is a pretty sick-looking AT-ST walker that's been heavily modified from the original Empire issue.

You also get minifigs of The Mandalorian himself and ally Cara Dune, as well as a pair of Klatooinian Raider baddies, all for $10 off of the list price right now.
Clip the coupon on the page

The LEGO Harry Potter sets let you relive the adventures of the boy wizard with little plastic bricks, and right now you can save some solid cash on one of the medium-sized sets.

The Whomping Willow scene recalls the early Chambers of Secrets moment in which Ron and Harry steal a flying car to drive to school, only to run into a giant, violent tree. Ultimately, this 753-piece set includes the car, the tree, the gates of Hogwarts, and a half-dozen minifigs, all available for $24 off the regular price right now at Amazon when you clip the coupon.
Right now, you can save $24 off the price of the towering Statue of Liberty kit. With 1,685 pieces, it's a meaty challenge aimed at anyone 16+, and the end result stands 17 inches tall. Grab this deal while it lasts!

Does Spider-Man really have a mech? Does he need a mech, let alone against Venom? We're not totally sure, but we are sure of this: Aunt May is the star of this set.

Did you ever think you'd have a chance to own an Aunt May minifig? Now's your moment. You also get Ghost Spider (a.k.a. Spider-Gwen) on a hoverboard (again, why?) and a Venom minifig alongside a giant Venom… mech. In any case, this unique set is $11 off right now.
Here's a cool set for kids that not only lets you build a trio of rad Star Wars droids, but also gives you the ability to interact with them via a tablet coding app. The LEGO Star Wars Boost Droid Commander kit has 1,177 LEGO bricks, a color and distance sensor, a motor that can be moved between the three built droids, and the ability to learn coding as you play via the iOS and Android app. Save $26 right now at Amazon.

We haven't seen a good deal on one of LEGO's Architecture cityscapes in some time, so we're pleased to have spotted this London bargain at Amazon.

Currently 20% off list, this 468-piece set includes landmarks such as Big Ben, Tower Bridge, and the London Eye. You probably won't be hopping the pond anytime soon, but this LEGO kit is far cheaper than a plane ticket anyway.
Big fan of the Star Wars Resistance animated series? If so, then you might be pleased to see this Major Vonreg's TIE Fighter set from the show.

It's 20% off the list price right now, albeit still a bit pricey for a 496-brick set. Still, this TIE Fighter looks awesome and comes with a few minifigures: Vonreg, General Leia, Kaz Xiono, and the droid Bucket (R1-J5).
Some of the LEGO Minecraft sets are more whimsical in nature, but this one is all action. The Blaze Bridge is a lava-filled environment with interactive elements, and four minifigures: heroine Alex, a Wither Skeleton, and a pair of Blazes. It's 20% off right now at Amazon.

This is a super-cool LEGO Technic build for a catamaran boat that actually floats on water. You can build it tall with a sail or short like a motorboat, and this 404-piece set is $10 off now.

If you're buying LEGO for a young kid, start with one of the LEGO Classic boxes. This Medium set is a good size, providing a robust 484 pieces within a handy plastic carrying case.

Without step-by-step directions, this set is ideal for getting kids familiar with the tiny blocks and unlocking a bit of creativity in the process. Of course, there are larger Duplo blocks for the really young'uns, but LEGO suggests this is ideal for ages 4+. It's $8 off right now.


---