Best Tech Deals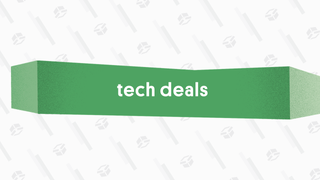 Best Tech Deals
The best tech deals from around the web, updated daily.
Featured Deal: Save 68% on 2 Years + Free Bonus Time | NordVPN
The best VPN deals for April 2021 are here.
If you're spending a lot more time on the internet at home right now, whether working, streaming video, or just browsing around, then you might want to consider investing in a virtual private network (VPN). It helps keep you anonymous and protected online by routing your internet connection through another server, and can even help you access region-specific or blocked content.
And while paying month-to-month for a VPN service can be pricey, many of the top providers have amazing long-term deals. We're talking enormous discounts, free months of service, and other perks. Check out the best VPN deals below.

NordVPN Deals | 68% off 2 Years + Free Bonus Time
It's Easter time, and this year NordVPN is the bunny serving up a basket of goodies. If you sign up for Nord's service, you'll save 68% off its two-year subscription plan. That's $89 now to secure VPN service until this time in 2023... and beyond.

On top of that, NordVPN will also give you a random bonus gift of additional time. It could be a free month or even a full extra year on top of what you're paying for. However, you won't know until you sign up! Free is free, so whether it's a month or a year, it's all gravy. NordVPN has more than 5,500 global servers and lets you use six devices at once.
G/O Media may get a commission
Bra Bearies Strawberry CBD Gummies
Our readers love Private Internet Access, and right now you can get two free months added onto your subscription when you sign up for two discounted years. It's $70 for two years of VPN service, which is 73% off the month-to-month price, and then you'll get two extra months free. That's 26 months of service, earning you access to more than 25,000 international servers.
ExpressVPN | Save 35% on 12 Months
ExpressVPN is one of the most popular VPN services around, not to mention the top pick of many tech sites. Praised for speed and reliability, ExpressVPN provides access to more than 3,000 servers scattered around the world across 94 countries. Right now, the service is offering 35% off a full year of service compared to the month-to-month rate, for just $100.
Besides offering proven service for several years now, TunnelBear also uses adorable bears in its marketing. Plush bears, cartoon bears, toy bears—if they're bears, they've got 'em. Right, but you're here for the deals. Luckily, TunnelBear chips 67% off of its monthly price if you subscribe for three years at a time, at a one-time cost of $120.
CyberGhost Deals | Save 83% on 3 Years + 3 Months
Here's a spooky good deal on CyberGhost's VPN service. Sure, 2024 might seem like it's forever away from now, but if you want to pay once and secure VPN access until the calendar page drops in 3+ years, you can do that. Right now, CyberGhost is offering a service plan for three years of service plus three additional months of VPN access for $88. That's $2.25 per month for 39 months.
If you're looking for a bargain that keeps on giving and giving and giving, you can't look past this KeepSolid deal. Right now, you can get lifetime service to KeepSolid's VPN Unlimited service for a one-time payment of $40. That's right: VPN for life. PCMag gives it a "Good" rating and notes some limitations, so while it might not be as robust as some alternatives, anyone with modest needs will save a ton of cash with this deal.

Here's an even better option if you're a PlayStation fan. Right now, you can snag the aforementioned lifetime KeepSolid VPN Unlimited lifetime access deal and a full year of Sony's PlayStation Plus subscription service for only $50. You get all of the benefits of VPN service across your devices, plus you'll get 12 months of access to the PS5 and PS4 membership that unlocks online play for premium games, grants you multiple monthly game downloads, and comes with other benefits as well. PlayStation Plus is usually $60/year on its own!
Surfshark | Save 80% on 2-4 Years
Surfshark's deal scales to meet your needs. Right now, you can get two years of VPN service for $57, three years for $84, or four years for $112 via StackSocial. Whether you want service through 2023, 2024, or 2025, Surfshark's 3,200+ servers in 65 countries should help you keep your connection private and secure.
Take advantage of this exclusive ZenMate VPN bargain today. Right now, you can sign up for a full year of service for $40 and snag six free additional months of service, protecting you nearly halfway into 2022.
ZenMate has no limits on number of simultaneous devices, with servers to connect to in 74 global locales and absolutely no logs kept.
Looking to lock in service until 2025? You can do it right now with this early Black Friday bargain from PureVPN. The company is offering service at 88% off the usual price, charging just $79 for five years of VPN service. That includes enterprise-grade security, letting you connect up to 10 devices at once to 6,500+ global servers across 140+ countries.
VyprVPN's "Chameleon" protocol technology helps you overcome government and corporate barriers, and right now you can snag a serious bargain: three years of VPN service for $60, which works out to $1.66/month. That's an 87% savings over the monthly rate and is good for up to five simultaneous devices with access to more than 70 server locations around the globe. Why surf with limits?



---