Best Tech Deals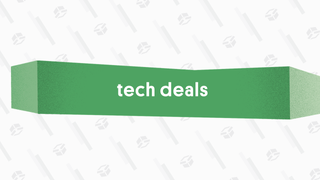 Best Tech Deals
The best tech deals from around the web, updated daily.
Featured Deal: Anker Roav Dual Dash Cam | $90
The best Anker and Eufy deals for August 2020 are here.

If you're on the hunt for a wireless battery pack, a robot vacuum assistant, wireless earbuds, or doorbell camera, we've got you covered. Sister brands Anker and Eufy make all of those things and more, and thankfully many of those items are on sale right now.
Anker and Eufy's normal prices usually beat the bigger-name brands, so you might be shocked to see how low some of these sale prices are. Check 'em out!
G/O Media may get a commission
Save $12 right now on this slim portable battery charger, which probably isn't much larger than your smartphone itself (albeit a little bit thicker).

With 10,000mAh onboard, you can charge up a flagship smartphone 2-3 times over, whether it's an iPhone, Samsung Galaxy, or something else entirely. Keep one of these handy when traveling or anytime you plan to push your phone to the limit.
Anker's handy Roav dual dash cam keeps an eye on your car both inside and outside, with one 1080p camera pointed through the windshield and the other one back at you and any passengers.

It's ideal for anyone driving for Uber or Lyft right now or for delivery drivers, and it'll even automatically record footage when it senses movement near your car 24 hours a day. It's $40 off without any coupon or promo code needed.
Clip coupon on page

Want to fill a space with sound without lugging around a hefty speaker? Anker's SoundCore Bluetooth Speaker is up for the job. This portable speaker is just over 6 inches wide and weighs less than a pound, but you can count on it to boost your smartphone or tablet's music in a pinch.

At 6W of power, it's definitely an entry-level option—but for just $25 via clipped coupon and with a 4.6-star rating from Amazon users, it might be all you really need.
Many of today's laptops go light on ports to enable their slim frames, but what happens when you need a full-sized USB port or a card slot? Well, you grab the Anker 5-in-1 USB-C Hub.

Anker's handy hub packs in a trio of USB 3.0 ports, an HDMI port, and an Ethernet port. You can snag it for $26 right now without a coupon or promo code, a savings of nearly $7.
Clip the coupon on the page

Eager to keep an eye on your surroundings? Eufy's two-camera wireless security kit lets you get started with ease, giving you a pair of eyes to mount outside your place without worrying about wiring.

Better yet, you don't have to pay any subscription fees, as the included base station has 16GB of local storage. Each camera has a 145-degree field of vision and a battery life of up to 180 days, while human detection software helps reduce the amount of false alerts. Clip the coupon on the Amazon page to save $20 and knock the price down to $200 for the set.
Save $30 right now on Eufy's SpaceView video baby monitor, which gives you a camera for the baby's room and a receiver with a 5" screen for watching every moment from afar.

It's a 720p HD picture, so you'll get a pretty good look inside the nursery, plus the lens can pan 330° and tilt 110° to get the best view. You can even snap on an included wide-angle lens if desired, plus the camera will send instant alerts when noise is detected.
Clip the coupon on the page

You don't need to spend a crazy amount of cash to get AirPods-like true wireless earbuds. Anker's SoundCore Life P2 earbuds provide a much more affordable alternative, delivering an impressive list of features and specs at a fraction of the price.
At just $45 after clipping the coupon on the Amazon page, the Anker SoundCore Life P2 Wireless Earbuds deliver seven hours of battery life on their own, with up to 40 total hours of battery provided by the included charging case. These tiny 'buds have graphene drivers that promise solid bass boost, as well as four total microphones and easy pairing to devices.
Clip the coupon on the page
You can save $50 on Anker's Nebula Capsule II Smart Mini projector right now, letting you set up a giant projected picture for your media wherever you please.

Anker's tiny, soda can-sized projector provides a solid 720p picture that can range up to 100", plus it's super portable. Clip the coupon on the page to take advantage of the savings.
Clip coupon on the page
If you're spending a lot more time at home right now, then that means you're making more messes than usual—whether you realize it or not. Luckily, social distancing won't stop you from bringing in a robo-helper to sweep up after you.

Anker's eufy BoostIQ RoboVac 11S Robot Vacuum is the slimmest of Eufy's vacuums to date, plus it adapts its sucking capabilities depending on the surface it's currently rolling over. It's currently $30 off at Amazon when you clip the coupon on the page.
Clip the coupon on the page
Want to make sure your social distancing plan isn't interrupted by an unexpected visitor? Add a video doorbell to your home! Eufy's Wi-Fi Video Doorbell provides a 2K-resolution view outside your front door, letting you hold a two-way conversation with anyone who buzzes … or simply ignore them if you see fit.

This version requires existing doorbell wiring and installation, but you'll get it for just $130 when you clip the coupon.
---