Featured Deal: Sol Angeles Keep Going Keep Growing Sweatshirt | $52
The best Anthropologie sales for October 2020 have arrived.

Anthropologie is clearing through its sale apparel with bonus savings right now: all sale apparel is an extra 25% off the already-slashed price. We've found some serious savings within the sale category, including some of the great items below, many of which are more than half-off the list price.
Keep going, keep growing: it's good advice for all of us right now amidst pandemic lockdown, and probably a message many of us will need pumped through our ears during the winter ahead. If you want to see it in the mirror in a vibrant way, this Sol Angeles graphic sweatshirt is more than half off the $118 list price right now with the extra savings.

G/O Media may get a commission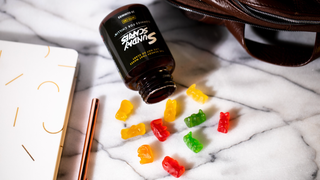 10mg CBD Gummies (22-Count)
Look, you're probably not welcoming a lot of friends over right now (please, be safe), but even if it's just for you and your family or roommates, this "Oh Hey There Friend" doormat with a dachshund is absolutely adorable. It's $8 off right now, and hey, you could always buy it on sale and save it for better times.

Save more than half off the list price of Maeve's autumn-ready Flower Power wide leg pants, which have a very vintage-looking print. They're usually $128, but the extra 25% off sale apparel right now absolutely slashes down the price.

Freshen up the look of your space with a new accent pillow or two. Anthropologie has these airy cotton gauze pillows in a handful of colors in 20x20" for $35 or 24x24" for $40. That's a big savings from the usual price points of $58 and $68, respectively, and you'll have style options thanks to the solid and woven sides on each.

Tiny's postcard-inspired button-down women's shirt comes in three styles and they're all awesome. Whether you opt for the two-tone blue, neutral zebra motif, or green floral motif, you'll have a bold top that's sure to turn heads. Best of all, with the extra savings it's down to $30 from a list price of $118!

Anthropologie's exclusive Cloth & Stone line has this perfect-for-fall Daia plaid mini dress in "Black Motif," which features an easy, breezy look with a chic silhouette. It's nearly half off the list price once you work in the extra savings at checkout.

Summer's days may be done, but Eri + Ali's fitted Janesse ribbed tank could be a bargain worth snagging ahead of next summer. It's marked down from $39 right now and available in a few different colors.

This beautiful silk floral dress is nearly a quarter of the list price right now at Anthropologie. It's tunic-style with lace trim and a viscose lining, and given the massive savings off of the $228 tag, you'll want to jump on this bargain while it lasts.

Save nearly half off the standard price on this Lise turquoise pendant necklace, which pairs the pendant itself with quartz, acrylic pearls, glass stones, cubic zirconia, and agate. It's usually $58, but is on sale for $40 right now.

These are some seriously cozy-looking cargo pants made of cotton and elastane, complete with side slant pockets and front and back button flap pockets. They're marked down hugely from the $128 list price right now, but there are limited quantities left.
---