Best Tech Deals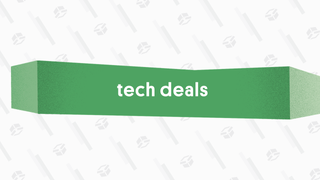 Best Tech Deals
The best tech deals from around the web, updated daily.
Featured Deal: Mac Mini (M1/256GB) | $600 | Amazon

The best Apple deals and discounts of March 2021 are here.
If you're an Apple fan, then you know that the company's popular iPhones, iPads, MacBooks, Apple Watch, and AirPods don't come cheap—and sales can be sporadic.
Luckily, we watch Apple bargains like a hawk here at Kinja Deals, and we're always keeping an eye out for the best deals across all Apple devices. Scope out some great prices on AirPods Pro, Apple Watch Series 6, iPad Air, and new M1-powered Macs below, and stay tuned: we'll be updating this roundup regularly.
The newest iPad Air model is arguably more appealing than the pricier iPad Pro models, packing the fastest processor while keeping the same sleek design. It doesn't have all of the perks from the Pro models (like the 120Hz screen), but at this price, it's hard to argue. Save an extra $50 off the list price at Amazon in Sky Blue or Rose Gold right now, but check the other colors too: the prices have been fluctuating lately.
G/O Media may get a commission
Apple's powerful new M1 chip isn't relegated to laptops right now: you can also grab a compact Mac Mini desktop and get way more power than past generations. Amazon has the base 256GB model for $600 (that's $99 off the list; full savings shown at checkout) or the 512GB version for $849 ($50 off).

Apple's higher-end wireless earbuds are currently $30 off at Amazon, which isn't as cheap as we've seen 'em in recent weeks but is still a solid discount if you're ready to buy right now. The AirPods Pro come with noise canceling, silicone tips for a comfortable fit, and a wirelessly-chargeable case, making them a solid upgrade over the standard versions.
Don't want to go Pro? Apple's standard current-model AirPods are also discounted at Amazon, and are marked down $30 right now for the standard edition. These buds are super-handy allies for any jaunt, large or small, and the case can be recharged with the included cable. A version with a wirelessly rechargeable case is available for $160 (that's $39 off).
Clip the coupon and use code KJ2WC012 at checkout

If you have any of the new iPhone 12 models, you should try out the MagSafe feature. There's a little magnetic anchor behind the back glass that lets you hook on accessories, such as a MagSafe Charger for rapid wireless charging. Apple's own MagSafe Charger is incredibly expensive, however, at $58 for both the charging pad and needed wall charger.
Luckily, third-party options are now available, and right now you can snag RAVPower's version for just $20 when you clip the coupon and use promo code KJ2WC012 at checkout. It has both the charging pad and wall brick included.
Clip the coupon on the page

On the other hand, if you're just looking for 20W wired wall adapters to ensure you can charge your iPhone at full speed around your home, here's a bargain: RAVPower is offering a two-pack of these compact power bricks for just $11 when you clip the coupon, a savings of nearly $9 off the list price. They're tiny like the old iPhone chargers that came in the box, but deliver significantly more power.

Amazon is slicing up to $60 off the list price of the new Apple Watch Series 6 in certain colors for the 40mm size, while the 44mm edition is up to $49 off the list price depending on color choice. These latest watches are a bit faster thanks to a new processor and add extra health functionality, such as a blood oxygen sensor. And unlike the cheaper Apple Watch SE, they have the always-on display.
MacBook Pros were already pretty powerful, but with Apple's new M1 chip in place of the old Intel chips, they're even more powerful. Like, by a lot. It's wild.

And if you want to snag one of those brand new MacBook Pro models, Amazon is already taking $70 off the list price for the 256GB base model in Space Gray. The larger 512GB version in Silver is likewise marked down $100.
Apple's brand new MacBooks are powered by its own M1 chips, which provide significantly more power than the old Intel models while consuming less energy. Case in point: the new MacBook Air doesn't even have a fan in it. That's neat. And now you can snag that brand new MacBook Air at a discount. The base 256GB version in Gold is just $11 off the list price, but the larger-capacity 512GB version is up to $50 off depending on color choice.
Last year's current-gen 11-inch iPad Pro has undoubtedly been undercut a bit by the new iPad Air, which has a similar design, near-identical screen size, and a smidge more processing power. But the Pro still has some notable benefits over the Air: the smooth 120Hz ProMotion display, LiDAR sensor for augmented reality smarts, and Face ID security. And right now, you can save $50 at Amazon.

If you're keen on cans instead of earbuds, Apple's Beats brand has a solid deal on Solo3 wireless headphones right now. They're $64 off the list price right now at Amazon, but only in black. Other options cost more, but be sure to double-check in case anything changes. Whatever you choose, you'll get wireless headphones that pair easily with an iPhone and offer up to 40 hours of battery life.

Apple's Magic Keyboard attachment for the current-gen iPad Air and 11-inch iPad Pro is very cool, providing a trackpad for a laptop-like experience and keeping your tablet propped up—almost like it's floating—thanks to the strong hinge. However, it's wildly expensive in a very familiar, Apple-like way. Luckily, you can save $100 right now at Amazon. It's still not cheap, but hey, now it's a legit bargain.

If you're a Boost Mobile customer or are willing to switch, right now you can save $150 off the price of the excellent iPhone SE. This lil' guy packs a compact 4.7" screen and the older iPhone 8 design, but otherwise has modern specs: the A13 Bionic flagship processor seen in the iPhone 11 line, a stellar camera, and even wireless charging. Again, this deal is just for Boost's network, but it's a heck of a value.
If you want a large, affordable iPhone and don't mind looking a couple years back, this unlocked iPhone XR deal might be just want you need. This refurbished phone has a big 6.1" screen and a speedy A12 Bionic processor, and you can bring it to any US carrier. It's more than half-off the original new price right now, although the price varies slightly by color.
Apple's biggest current MacBook Pro model is a wallet-buster, as you might expect, but at least Amazon is slashing some cash off right now. The 16" Space Gray base model is $214 off right now, snagging you a powerful notebook ideal for creative work via an Intel Core i7 processor, 16GB RAM, and a meaty 512GB of internal storage. Meanwhile, the Core i9 version with 1TB storage is $300 off the list price (full savings at checkout).
Apple's MacBook laptops are popular, but if you want a big, beefy Mac with a hell of a screen, you can't go wrong with an iMac. The all-in-one desktop has a big 21.5-inch screen at a blistering 4K resolution, and pairs that with an Intel Core i5 chip and 256GB of storage. Save $150 off the base model at Amazon or B&H right now.









---