Best Tech Deals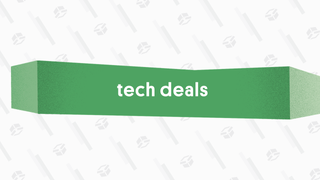 Best Tech Deals
The best tech deals from around the web, updated daily.
Featured Deal: Dell Inspiron 15 3000 Laptop | $260 | Dell
The best Dell and Alienware deals for April 2021 are here.
If you're still rocking an older laptop or desktop PC, now might be the time to get yourself something sleek and modern. Dell has a wide array of deals right now on everyday devices, and while its premium XPS laptops are impressive indeed, you don't have to spend a bundle to get a good-quality computer.
We've rounded up the best Dell deals right now, as well as discounts on Alienware gaming PCs and accessories.
One of Dell's most sensible Windows laptops right now is the Inspiron 15 3000, which has low-end specs at a stellar price of just $260 right now. This notebook has an Intel Celeron processor inside along with 4GB RAM and a 128GB SSD. You get a 15.6" 1366x768 HD screen here, too. As a basic laptop for basic everyday needs, it should be a quality option, and it's $45 off the list price.
G/O Media may get a commission
Bra Bearies Strawberry CBD Gummies
Get a sleek and beautiful laptop at a modest price with the Dell XPS 13, currently just $801. It comes with a solidly powerful Intel Core i7 processor and 16GB RAM, with a swift 256GB SSD and a 13.3" Full HD display. You'll save a hearty $349 off the list price right now from Dell.
Need a new tower to replace an older desktop? Dell's new Inspiron Desktop is 16% smaller than previous models and provides a solidly affordable option. This lower-end configuration comes with a 10th-gen Intel Core i3 processor with 8GB RAM, as well as a swift 256GB SSD. It's $65 off the list price right now.
Dell's luxurious redesigned New XPS 13 laptop comes with a stunning 4K Ultra HD touchscreen in this configuration, which also nets you a powerful Intel Core i7 chip, 8GB RAM, and a swift 256GB SSD onboard. You'll save $548 off the list price in this deal right now.
Dell's redesigned XPS 15 is a beauty, pairing a sizable 15.6" Full HD+ resolution display with a 10th-generation Intel Core i7 processor, a GeForce GTX 1650 Ti GPU, a beefy 16GB RAM, and a 512GB NVMe SSD in this configuration. This powerful and polished offering is $225 off the list price right now.
If you're eager to get in on the VR wave—especially right now when it's a perfect escape from the monotony of home quarantine—then here's a desktop for you.

The Dell XPS Desktop Special Edition has more than enough power to run VR headsets such as the Oculus Rift or HTC Vive (both sold separately!), thanks to an NVIDIA GeForce RTX 2060 SUPER graphics card on this entry-level model, plus it has an Intel Core i7 chip and 16GB RAM. Right now, the desktop tower is $1,440—a savings of $280 off of the list price.
Got the cash to go nuts on a gaming laptop right now? If so, then Alienware has a deal for you. The Alienware m15 R3 Gaming Laptop is stocked with gaming-ready hardware, from an NVIDIA GeForce RTX 2070, Intel Core i7 chip, and 16GB RAM to a 15.6" 144Hz screen, 512GB SSD, and Cryo-Tech cooling v3.0. You'll save $379 off the list price with this deal right now.
Get a stunning new view of your gaming worlds with Alienware's 34" curved monitor. Not only does it have that curvature for a purportedly more immersive experience, but it's also stacked when it comes to the specs. This 3440x1440 monitor is ultra-crisp and has a 120Hz refresh rate and G-SYNC compatibility, which means your games should run super smooth on it. Save $200 right now through Amazon.

If you're keen on a desktop computer that doesn't take up a ton of space, Dell's Inspiron 24 5000 All-in-One is an attractive option. It doesn't have a standalone tower, instead bundling all of its components within the same housing as the 24" 1080p screen. You'll get solid power here, thanks to an 11th-gen Intel Core i5 chip and 8GB RAM, plus there's a swift 512GB SSD onboard. Save $135 right now.
Use promo code EXTRA10 at checkout

Some computer monitors blow you away with their size, crispness, refresh rate, or curvature. Others just get the job done at a reasonable price. The Dell 27 Monitor is decidedly the latter, delivering a solid 27" 1080p picture without any bells and whistles in tow. But at $198 right now when you use promo code EXTRA10 at checkout, a savings of $122 off the list price, it's a pretty good bargain.

If you want a keyboard with some visual punch to it, Alienware has a rainbow-colored delight to adorn your gaming setup. This RGB gaming keyboard features low-profile Cherry MX switches and per-key RGB lighting with 16.8 million different color options. It's currently $32 off the list price.
Need a decently-capable laptop for a kid? Dell's Chromebook 3100 Education is a good, affordable option. It's entry-level for sure, with an 11.6" screen and modest specs, but you don't need a lot of horsepower to run the cloud-centric Chromebooks. This one's $109 off the list price right now, although you can pay a smidge more for nice-to-haves like more storage or a touch display.


---