Best Tech Deals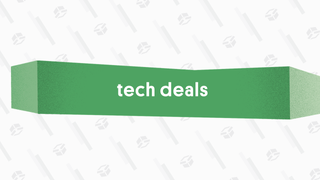 Best Tech Deals
The best tech deals from around the web, updated daily.
Featured Deal: Dell Inspiron 15 5000 | $539 (use code SAVE17)
The best Dell and Alienware deals for September 2020 are here.
You can save some serious cash on a Dell laptop, desktop, or monitor right now, as well as Alienware laptops and accessories. Dell's website is offering "employee savings" to all customers right now on most home devices and accessories with code SAVE17.
We've rounded up some of the best deals in the same below, along with a couple of standout bargains from other retailers.
Use code SAVE17 at checkout

Save $115 on Dell's mid-range Inspiron 15 5000 laptop using promo code SAVE17 right now. This notebook has a 1080p 15" screen, solid power with a 10th-gen Intel Core i5 chip, 8GB RAM, and a 256GB SSD for speedy storage.

G/O Media may get a commission
Use code SAVE17 at checkout

Need a new tower to replace an older desktop? Dell's New Inspiron Desktop is 16% smaller than previous models and provides a good entry-level, affordable option. This configuration comes with a 10th-gen Intel Core i3 processor with 4GB RAM, as well as a sizable 1TB hard drive. You'll get it for just $332 at checkout when you input code SAVE17.
Use code SAVE17 at checkout
Dell's redesigned XPS 15 is a productivity powerhouse, pairing a sizable 15.6" 1920x1200 display with a 10th-generation Intel Core i7 processor, NVIDIA GeForce GTX 1650 Ti GPU for solid gaming prowess, 16GB RAM, and a large 512GB SSD. Right now, you can save $306 off the list price of this configuration when you use promo code SAVE17 at checkout.
Save $140 off the list price (no promo code needed) of this sharp and sizable monitor, which has a 27" LCD panel at a crisp 2560x1440 resolution and can be swiveled into portrait orientation as desired. It's crisp and versatile, making this an ideal screen for anyone who needs significant display space without breaking the bank.
Use promo code SAVE17 at checkout
Got the cash to go absolutely nuts on a gaming laptop right now? If so, then Alienware has a deal for you. The Alienware m15 R3 Gaming Laptop is stocked with high-end hardware, from a NVIDIA GeForce RTX 2060 GPU and Intel Core i7 chip to a 15.6" 144Hz screen and Cryo-Tech cooling v3.0.
Use code SAVE17 to shave 17% off the $1,864 list price right now!

Need a decently-capable laptop for a kid? Dell's Chromebook 3100 Education is a good, affordable option. It's entry-level for sure, with an 11.6" screen and modest specs, but you don't need a lot of horsepower to run the cloud-centric Chromebooks. This one's $100 off the list price right now, although you can pay a smidge more for nice-to-haves like more storage or a touch display.
Use promo code SAVE17 at checkout
Get a beast of a gaming rig with Alienware's Aurora R11 desktop, which looks about as awesome as it surely performs. It's powered by a 10th-gen Intel Core i9 chip with 32GB of RAM, along with an NVIDIA GeForce RTX 2080 SUPER 8GB GPU onboard. Use promo code SAVE17 to cut 17% off the list price, saving $443 in the process.
While it's always appealing to go after the newest, hottest version of a gadget, you can save some solid cash by looking back a generation or two.

Dell's XPS 13 9370 model from 2018 still has a slim build, plus a 13.3" 4K Ultra HD touch screen, an Intel Core i5 processor, and a 128GB SSD.

Use code SAVE17 at checkout
Get a stunning new view of your gaming worlds with Alienware's 34" curved monitor. Not only does it have that curvature for a purportedly more immersive experience, but it's also stacked when it comes to the specs.
This 3440x1440 monitor is ultra-crisp and has a 120Hz refresh rate and G-SYNC compatibility, which means your games should run super smooth on it. Save $570 right now through Dell and get ready for the year's biggest games ahead, including Cyberpunk 2077 (as shown).
Up your gaming capabilities with the Alienware RGB Gaming Mouse (510M). While you can certainly get more elaborate, super-stylized gaming mice than this, Alienware's modestly-priced option makes it easy to make a meaningful upgrade.

With 16,000 DPI resolution, 10 programmable buttons, and AlienFX RGB programmable lighting, it's bound to be a huge step up over whichever mouse came with your computer. Amazon has it for 19% off right now.
Use code SAVE17 at checkout
If you want a keyboard with a bit more visual punch to it, Alienware has a rainbow-colored delight to adorn your gaming setup.

This RGB gaming keyboard features low-profile Cherry MX switches and per-key RGB lighting with 16.8 million different color options. It's 17% off at Dell when you use the code SAVE17 at checkout.
---