Best Home Deals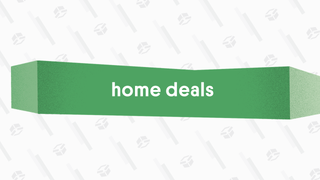 Best Home Deals
The best home, kitchen, smart home, and automotive deals from around the web, updated daily.
Featured Deal: Dyson Pure Cool Me | $200
The best Dyson deals on vacuums and air purifiers for September 2020 are here.

Let's be honest: the name "Dyson" might emit a scream from your wallet or handbag, as the company's high-end products usually don't come cheap. But you don't have to settle for imitators.
Right now, many of Dyson's top cord-free vacuums are on sale, including big discounts on factory-refurbished and warrantied models, plus you'll find bargains on Dyson's other products: like lamps and hair dryers. Scope out the deals below!
Need a powerful vacuum that excels at sucking but doesn't, you know, suck? The lightweight Dyson V7 Origin ought to do the trick.

It can give you up to 30 minutes of standard vacuuming, or you can switch on the motorized head for about six minutes of super-sucking. It charges via a wall mount so it's always ready when you need it, and you can eject the pipe and use it as a compact handheld vacuum in a pinch. It's $134 off right now from Amazon.
G/O Media may get a commission
Now here's an excellent deal on a personal fan designed to cool you while purifying the air sent in your direction. The Dyson Pure Cool Me is ideal for a bedside table or desk, pumping out fresh, cooling air while you sleep, work, or whatever else you might do. Right now, Newegg has it for half off the list price.
Clean the air while you clear dust using Dyson's V7 Allergy cord-free stick vacuum. It looks a lot like the other V7 models, but has the benefit of a whole-machine HEPA filter built in.

It'll capture allergens and pump out cleaner air while you vacuum. The V7 Allergy has the same 30-minute run time on a full charge, and up to six minutes on MAX mode for deeper suction. It's $45 off right now at Amazon.
Save $100 right now on the Dyson V8 Absolute cordless vacuum direct from Dyson, with an exclusive yellow color not available from third-party retailers.

The powerful Dyson V8 Absolute gives you serious suction whether you're on hard floors or carpet, with up to 40 minutes of sustained usage (or up to 25 minutes with the motorized cleaner head).
The Dyson Ball Animal 2 is a must-have for pet owners who sometimes become concerned that their pet must be running around completely bald after shedding so much pet hair onto the carpets.

With multiple accessory options to get spots high and low, the pet vacuum also comes with a washable filter and a seal of approval from the Asthma and Allergy Foundation of America. Right now, it's $51 off at Amazon.
Dyson's all-in-wonder machine serves as an air purifier, removing up to 99.97% of allergens, but it's also a futuristic-looking fan and heater. One cool device, plenty of year-round functionality.

You can even control it via a smartphone app or use voice commands via an Amazon Echo. Right now, it's $100 off the list price from Amazon.
This versatile Dyson Cyclone V10 Motorhead vacuum is cordless, chargeable, and ready to deal with whatever you've spilled on multiple surfaces, from carpet to hardwood.

People love this model for its wall mounting dock and ability to shift into a handheld vacuum for small spaces. You can snag it for $65 off the list price right now from Dyson.

Can you imagine the immense power of a Dyson vacuum in reverse… and blowing against your head? That's the promise of the Dyson Supersonic hair dryer.

Dyson's hair products aren't cheap, with perhaps even more sticker shock than with the vacuums, but right now Newegg has a refurbished version of the black model for just $280.
If you have pets, you have filth — whether you can see it all or not. Luckily, that's what the Dyson Cyclone V10 Animal is for. It's built to suck animal fur out of carpets and can last up to 35 minutes with the Torque drive cleaner head (or 60 minutes without). Save $100 at Amazon right now.
A $700 lamp? That's madness, right? Well, that's Dyson: high-end design at a high-end price. Besides, that's the price after a $200 discount direct from the maker.

What makes it unique aside from the look? Well, the Dyson Lightcycle Floor automatically tracks color temperature and brightness of your surrounding daylight to adjust the output, and has a half-dozen LEDs aided by heat pipe technology to last upwards of 60 years. Meanwhile, the 3 Axis Glide system lets you intricately position the lamp and trust that it'll stay put.
It's still a $700 lamp, mind you, but damn it's a cool lamp.
This is one of the better prices you'll find for one of Dyson's signature cordless vacuums thanks to this refurbished offer at Walmart, direct from Dyson.
The Dyson V6 doesn't have quite the battery life (20 minutes) as the newer models, but still gives you the incredible versatility to clean up your space, plus you can remove the pipe to clean smaller spaces like your car.
---