Best Gaming Deals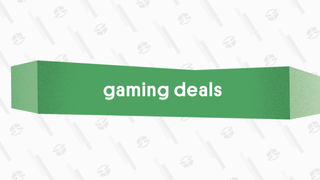 Best Gaming Deals
The best deals on games, consoles, and gaming accessories from around the web, updated daily.
Featured Deal: Star Wars The Mandalorian: The Child in Bag (Pre-Order) | $19

The best Funko Pop deals of October 2020 are here.
Love 'em or hate 'em, Funko Pop toys are absolutely ubiquitous. There's a licensed Funko toy for nearly every significant movie, TV series, comic book, and video game, not to mention many bands, celebrities, and historical icons. And we're still barely scratching the surface.
There are thousands of Funko Pop toys out there, and thankfully it's not that difficult to find some excellent deals. We've picked many of our favorites below, including some figures available for just $2 apiece as well as sizable discounts on larger premium releases.
Baby Yoda has easily been the hottest Funko Pop over the last year in its various incarnations, and now here's another on the horizon for a mid-November release: The Child in Bag. It's available for pre-order at Amazon right now with a slight discount, so snag it while you can!

G/O Media may get a commission
10" LED Ring Kit
Although a highlight of Detective Pikachu, surely we can all agree that Mr. Mime is one of the creepiest, most off-putting Pokémon out there. But if, for some reason, you're into that, right now you snag a Mr. Mime Funko Pop for a few bucks off of the list price at Amazon.

If you long for the days when Sophia, Rose, Blanche, and Dorothy were weekly fixtures on the TV and/or you still break out into the Golden Girls theme song on a regular basis, this set is for you. Right now, you can get all four girls together for just $34 at Amazon, which is $4 off the usual set price and about $10 less than buying them all individually.

Need a constant reminder of just how messed up the movie Us is? A couple of the official Pops, Abraham with Bat and Umbrae with Scissors, are marked down to just under $7 apiece right now. There are other Us Pops, but these are the most affordable as of this writing.

Load up on three horror film icons with this ready-made bundle of Freddy Kreuger, Jason Voorhees, and Michael Meyers. Each is recreated in Funko's trademark style while keeping their respective, vicious demeanors. And while the $3 discount isn't much, at least you don't have to track down these Pops individually.

Did you know that Funko makes advent calendars? There are licensed Harry Potter, Dragon Ball Z, and The Nightmare Before Christmas calendars, each loaded with little toys and trinkets for the first 24 days of December. Each calendar is 25-33% off right now!
Save a bundle on Lifeline, one of the playable heroes from EA's free-to-play battle royale shooter hit Apex Legends. She's only $5 right now at Walmart in this exclusive tie-dyed rendition, marking more than a 50% savings off of the regular price.

Baby Yoda has produced some of the hottest Pops of 2020, and here's a totally brand new one— a scene, actually, featuring both The Child and The Mandalorian. It just released recently, but it's already marked down 26% from the list price.

This sick, blood-covered version of Eva Unit 01 from anime classic Neon Genesis Evangelion stands six inches tall, and it's a limited edition version of the imposing cyborg beast. It's $7 off the list price right now.
If you still need Shazam's best friend Freddy to complete your set of Funko Pops from the fun DC flick, then now's the time to strike. GameStop still has this guy in stock for just two bucks, although we doubt supplies will last long!
---