Best Gaming Deals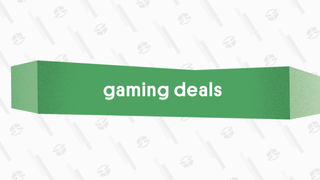 Best Gaming Deals
The best deals on games, consoles, and gaming accessories from around the web, updated daily.
Featured Deal: Fallout 76 Vault Dweller | $4

The best Funko Pop deals of September 2020 are here.
Love 'em or hate 'em, Funko Pop toys are absolutely ubiquitous. There's a licensed Funko toy for nearly every significant movie, TV series, comic book, and video game, not to mention many bands, celebrities, and historical icons. And we're still barely scratching the surface.
There are thousands of Funko Pop toys out there, and thankfully it's not that difficult to find some excellent deals. We've picked many of our favorites below, including some figures available for just $2 apiece as well as sizable discounts on larger premium releases.
Also, GameStop's full-priced $11.99 Pops are available in a Buy 3 Get 1 Free promotion right now, so be sure to check out their selection!
G/O Media may get a commission
Demand for "Baby Yoda" stuff has been high since The Child first appeared on The Mandalorian—and if the standard Funko Pop didn't sate your desire for silly trinkets, what if we added… a cup?

It's on sale for just $9 right now. And if that's not a large enough Child for you, how about a 10" Super-Sized Pop for $25, or 38% off the list price?
All praise to the real RBG for persevering through illness and injury to stay on the Supreme Court during these extremely fraught times. Need a reminder to push through your own obstacles and daily BS? Put this Funko rendition of the second-ever woman to serve on the highest court in the land on your desk, now $2 off at Amazon.

Lieutenant Mattias was a breath of fresh air in Frozen II: voiced by Sterling K. Brown, he's a strong but nuanced character of color in a fictional world that had been very white before the sequel. His Funko Pop is currently down to just under $4 at Amazon, plus you can add Young Anna and grab the pair for about $10 total.

Save a bundle on Lifeline, one of the playable heroes from EA's free-to-play battle royale shooter hit Apex Legends. She's only $5 right now at Walmart in this exclusive tie-dyed rendition, marking more than a 50% savings off of the regular price.

Bring home Marvel's badass Valkyrie in her awesome Avengers Endgame appearance on the back of a winged stallion, now $12 off the list price at Amazon. It's a bobblehead, too, so her dome will rock lightly as you fly this toy around your room while you provide sound effects (we don't judge).

Snag a Funko Pop of the customizable lead character of Fallout 76 for just four bucks in Walmart's sale. You can't customize this one, of course, but hopefully it's close to the version you envisioned. And if not… did we mention it's $4?
Baby Yoda has produced some of the hottest Pops of 2020, and here's a totally brand new one— a scene, actually, featuring both The Child and The Mandalorian. It just released this month, according to Amazon, but it's already marked down 26% from the list price.

This sick, blood-covered version of Eva Unit 01 from anime classic Neon Genesis Evangelion stands six inches tall, and it's a limited edition version of the imposing cyborg beast. It's nearly $7 off the list price right now, and if you need a Shinji to go alongside (or whine and run away), Amazon has one of those too.
Marvel vs. Capcom Infinite wasn't so great, but this is still a heck of a deal on an odd-couple pairing of Marvel's Rocket Racoon and Capcom's Mega Man X. This Funko Gamerverse two-pack is currently marked down from $20 at Best Buy.

Disney's live-action Mulan flick won't hit the big screen thanks to COVID-19 and debuted as a streaming rental instead, which might be disappointing to fans of the original animated classic. But if you love Mulan, here's some good news: a sizable 56% savings on this sharp Mulan on Khan Funko Pop Rides toy.

If you still need Shazam's best friend Freddy to complete your set of Funko Pops from the fun DC flick, then now's the time to strike. GameStop still has this guy in stock for just two bucks, although we doubt supplies will last long!
---