Best Gaming Deals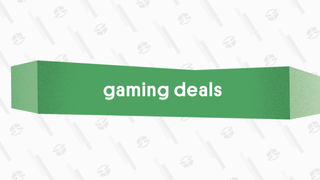 Best Gaming Deals
The best deals on games, consoles, and gaming accessories from around the web, updated daily.
Featured Deal: The Mandalorian: The Child | $10 | Amazon

The best Funko Pop deals of March 2021 are here.
Love 'em or hate 'em, Funko Pop toys are absolutely ubiquitous. There's a licensed Funko toy for nearly every significant movie, TV series, comic book, and video game, not to mention many bands, celebrities, and historical icons. And we're still barely scratching the surface.
There are thousands of Funko Pop toys out there, and thankfully it's not that difficult to find some excellent deals. We've picked many of our favorites below, including some figures available for just $3 apiece as well as sizable discounts on larger premium releases.
We haven't seen the original The Child Funko Pop consistently available for quite a while, but both Amazon and Best Buy have it available as of this writing. It's only a buck off the list price, but savings are savings—and more importantly, if this has been on your wish list for some time, now you can hopefully grab it.

G/O Media may get a commission
Did you know that Funko made a series of Pops of Mexican wrestlers inspired by Marvel superheroes? More pressingly, would you even know this is supposed to be Iron Man if you weren't told it's a Marvel Pop? I had no clue at first, but hey, you might appreciate the subtlety. This one and Venom are each marked down to $6 at Amazon, although the Spider-Man, Wolverine, and Deadpool ones are $9 each.

The launch of the highly-anticipated Cyberpunk 2077 game was a bit of a disaster, although there's still hope that the technical issues will eventually be overcome. We've already seen the game on sale for as little as half the retail price, and now you can get this V Male Pop from GameStop for just under half-price as well. Nice.

M.O.D.O.K. is one of the goofier-looking Marvel villains, although his star could rise a fair bit soon thanks to an upcoming animated series with Patton Oswalt behind the hovering, giant-head cyborg thing. In any case, M.O.D.O.K. also appeared in the recent Marvel's Avengers video game, and the Pop based on that version is just $5 at GameStop.
I knew a little bit about Steve Aoki, famed DJ/producer and esports entrepreneur, but I did not know that throwing cakes was his thing. And I say "was" because while he's thrown enough cakes at fans and in crowds for it to be his thing, and even made a song called "Cakeface" about it, he's also been sued for his dessert-based assaults. So he doesn't do it anymore, apparently.

In any case, there's a Funko Pop to capture his former frivolities in plastic form, and it's a couple bucks off at Amazon right now. The fact that this exists is bonkers, but so is being an internationally-known DJ whose thing is throwing sheet cakes at fans. Steve Aoki, ladies and gentlemen.
If you're building out your set of Mandalorian Pops, you'll need to pick up some of the side characters at some point. Luckily, Amazon has The Mythrol (a.k.a. the blue chump from the very first episode) and the Gamorrean Fighter toys for just $8 each right now. Snag 'em and complete the set.

You might be surprised at just how many pop culture properties have spawned Funko Pop toys, even some that most of us have probably forgotten about. Son of Zorn was a 2016 Fox animated series that was quickly off the air, but it still managed to get a series of Pops. This Pop of Zorn holding a bottle of hot sauce is just $5 at Entertainment Earth with a not-mint condition box. Is this secretly your favorite show? You're in luck then.
The Mandalorian Funkos were in high demand all last year and there's more on the horizon. This deluxe Funko Pop just released last month, depicting Mando himself riding a Bantha with lil' Baby Yoda strapped in for the ride. The list price is $33, but you can grab it at a discount right now while it's still in stock.
The recent Spider-Man: Miles Morales for PS5 and PS4 was one of 2020's best games, delivering a compelling storyline for the young, new Spidey as he manifests his powers and develops his purpose as a hero and a person. Like Insomniac's first Spider-Man game, it's loaded with slick costumes, and now Funko is issuing a bunch of them this spring. Some are discounted, too. Jump on these pre-orders before they disappear!

If you're a DBZ die-hard, GameStop is taking $17 off of the list price of this Funko Box for Dragon Ball Z. According to the site's listing, this box comes with a character Pop, a PEZ dispenser, a keychain, a two-pack of pins, and a patch. You won't know exactly what you'll get, but that seems like a nice bounty for $18 right now.

Like many characters on the brilliant AMC series Mad Men, Betty Draper was elegant, privileged, and deeply flawed. But unlike many of the other Pops based on the show's main characters, you can score this Betty toy for a mere $3 right now at GameStop.




---