Best Gaming Deals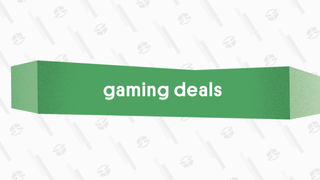 Best Gaming Deals
The best deals on games, consoles, and gaming accessories from around the web, updated daily.
Featured Deal: Star Wars: The Mandalorian The Child with Cup (Pre-Order) | $9
The best Funko Pop deals of July 2020 are here.
Love 'em or hate 'em, Funko Pop toys are absolutely ubiquitous. There's a licensed Funko toy for nearly every significant movie, TV series, comic book, and video game, not to mention many bands, celebrities, and historical icons. And we're still barely scratching the surface.
There are thousands of Funko Pop toys out there, and thankfully it's not that difficult to find some excellent deals. We've picked many of our favorites below, including some figures available for just $2 apiece as well as sizable discounts on larger premium releases.
Also, be sure to check out Hot Topic, which currently has a promotion in which hundreds of regular-priced Funko Pops are available at 3 for $27.
G/O Media may get a commission
Demand for "Baby Yoda" stuff has been high since The Child first appeared on The Mandalorian—and if the standard Funko Pop didn't sate your desire for adorable Star Wars trinkets, then what if we added... a cup?

A new Funko Pop with The Child holding a cup will release this August, along with one with a frog popping out of his mouth, and you can pre-order either of them for $9 right now to save a couple of bucks over the regular price.
Right now you can save a whopping $20 on this Funko Pop Rides release for Game of Thrones, which has Daenerys riding atop the fire-breathing Drogon.

It's larger than your typical Pop, of course, not to mention super detailed. The 63% discount off of the usual $32 price is pretty spectacular if you're a Thrones fan.
Square Enix's Disney-meets-Final Fantasy odyssey finally returned with last year's Kingdom Hearts III, and if you're a fan of the gaming epic, then you'll want hero Sora in sight.

This version sees Sora with his wild Ultima Weapon, and you won't have to spend a bunch of time tracking this blade down: just drop $6 for this Pop, which is marked down from $11.
Begin—or expand—your Dragon Ball Z Pop collection with this deal on Frieza, who is available right now for nearly half off the list price.

There are several different versions of Frieza, and this one in particular "hovers" thanks to a translucent stand. In any case, it's a good starting point at this price.
This is quite a deal on an Amazon-exclusive two-pack of POP! Figures from Disney's 1985 film The Black Cauldron, including both hero Taran and the evil Horned King.

You'll get the pair of them for just $16, which is nearly 50% off the original price.

The pandemic sadly bumped Wonder Woman 1984 to a (hopeful) October release, but that didn't stop the official Funko Pops from releasing.

Amazon has a handful of different Wonder Woman renditions from the film, but this one in particular with her dazzling golden armor is an exclusive for the site. You'll only save a bit over a buck on this one, but it's arguably the star of the new set.
Save a bundle on Lifeline, one of the playable heroes from EA's free-to-play battle royale shooter hit Apex Legends.

She's only $5 right now at Amazon, marking more than a 50% savings off of the regular price. Amazon customers give her a stellar 4.7-star rating too.
Just as Mr. Rogers himself could brighten up any day, so too can this Funko Pop recreation of the iconic children's television star when strategically placed in your space.

It's from the recent A Beautiful Day in the Neighborhood film based on Rogers, and features him in his trademark sweater with Daniel Tiger on his hand. Save nearly $5 off the list price.
Get your game on with this Funkoverse strategy board game inspired by DC Comics' Batman comic book universe, which come with four miniature Pops.

You'll get Batman, Batgirl, Joker, and Harley Quinn in this set, which comes with the game board with two playable maps designed for up to four players. Right now, it's 60% off the list price at Amazon.
Wolverine's gruff personality has been intact from the early days, but his costume has evolved and changed over time.

This Funko Pop throws it back to the iconic hero's original debut in the pages of The Incredible Hulk in 1974—and currently does so for 43% off the list price at Amazon.
Save $13 off the price of this deluxe Toy Story Pop, which recreates Woody's jaunt on RC from the original film.

It's vibrant and as adorable as any Pop we've seen, and all the more appealing thanks to this deep 43% discount right now. Snag it while it lasts!
Relive the moment that The Mandalorian learned to tame the wily Blurg and ultimately earned its respect with this sizable premium Funko Pop.

It stands five inches tall and is 25% off the list price, with a 4.7-star customer rating at Amazon. There's a vast line of The Mandalorian POP! toys, with a number of Baby Yoda ones that have been frequently selling out.
If you still need Shazam's best friend Freddy to complete your set of Funko Pops from the fun DC flick, then now's the time to strike. GameStop still has this guy in stock for just two bucks, although we doubt supplies will last long!

This 2019 fall convention exclusive is now available via Hot Topic for $4 off the list price. Rick and Morty fans will want to have this rare Pop, which depicts Shrimp Morty from the season four premiere looking as hapless and ridiculous as ever.

---