Best Gaming Deals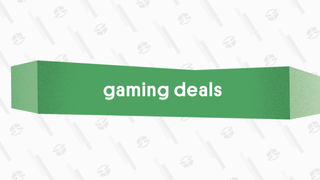 Best Gaming Deals
The best deals on games, consoles, and gaming accessories from around the web, updated daily.
Featured Deal: The Mandalorian: The Child with Egg Canister | $23 | Amazon

The best Funko Pop deals of May 2021 are here.
Love 'em or hate 'em, Funko Pop toys are absolutely ubiquitous. There's a licensed Funko toy for nearly every significant movie, TV series, comic book, and video game, not to mention many bands, celebrities, and historical icons. And we're still barely scratching the surface.
There are thousands of Funko Pop toys out there, and thankfully it's not that difficult to find some excellent deals. We've picked many of our favorites below, with prices as low as $4 each.
Mandalorian Funkos have been in high demand, and they keep on coming. Released in January, this deluxe Funko Pop depicts Mando himself riding a Bantha with lil' Baby Yoda strapped in for the ride. The list price is $33, but you can grab it for just $21 at Amazon right now.

G/O Media may get a commission
Exclusive for new customers
Caliper CBD
Launched to mark 2020 as the 65th anniversary of the opening of Disneyland, this adorable deluxe Pop shows Donald Duck on the classic Matterhorn roller coaster. Die-hard Disney parks fans will want to add this to their collection, and maybe (just maybe) it'll help ease the agonizing wait until you can safely visit again. Save $8 at Amazon right now.

Did you know that there are enormous 18-inch versions of some Funko Pops? It's true! And if you are a Pokémon fanatic, then this giant Pikachu might be the first worth joining your collection. Amazon is taking $24 off the list price right now.

It's been a few years since I closely followed baseball, so when I saw this, I naturally assumed it was a Pop based on retired Hall-of-Famer Vladimir Guerrero of Angels and Expos fame. Nope. Instead, it's his son, Vladimir Guerrero Jr, who entered the league in 2019. Nice one! Junior's got some serious pop on his bat, just like his dad, and it should be fun to see whether he'll have as illustrious of a major-league career. Save half off the list price of this Pop at Amazon.

The modern Ms. Marvel, or Kamala Khan, is undoubtedly one of Marvel's best creations in recent memory, and the young heroine was one of the best parts of the recent Marvel's Avengers game. This particular Pop shows her sleek outfit from that game, plus it's nearly half-off the list price right now at Hot Topic. The game is down to $25 at Amazon, too, if you missed it.

Hey, racing fans! Right now you can snag this rendition of driving legend Mario Andretti—the only person to win a Formula One season, Indianapolis 500, and Daytona 500—for just $6 at Amazon. This Funko Pop shows the Italian-born racing legend, whose children and grandchildren have also gone on to successful driving careers, in one of his many post-win looks.

Mr. Toad's Wild Ride might sound like a euphemism, but of course it's a real, classic Disneyland attraction—and now it's a deluxe Funko Pop, too. Mr. Toad here is part of a line of Pops created to celebrate the park's 65th anniversary, and Amazon is currently offering it for nearly one-third off the $30 list price.

Baby Yoda produced the hottest Pops of last year, and here's a deluxe Funko selection—a scene, actually, featuring both The Child and The Mandalorian. It's 43% off the list price, marked down from $33 to just $19 at Amazon.

Relive that moment from Season 2 of The Mandalorian with this Child with Egg Canister Funko Pop Deluxe scene. This bobblehead version of Baby Yoda stands alongside the object of his affection, and you can save $7 off of this recent release at Amazon right now.

If you're a fan of Disney's animated sequel and just can't let it go (sorry), here's a nicely-discounted deluxe pop of the film's water element, the liquid horse Nokk. Summon Elsa's elemental ally at Best Buy right now, where it's marked down from $15 to just over $8.
Izabel is one of the many, many great characters from the epic comic odyssey Saga, and here the Horror (ghost) from the planet Cleave is presented in all her legless, snarky glory as a Funko Pop. It's a Hot Topic exclusive and it's more than half-off there right now.
We haven't seen the original The Child Funko Pop consistently available for quite a while, but Amazon has it ready to ship right now. It's only a buck off the list price, but savings are savings—and more importantly, if this has been on your wish list for some time, now you can hopefully grab it.

Did you know that Funko made a series of Pops of Mexican wrestlers inspired by Marvel superheroes? More pressingly, would you even know this is supposed to be Iron Man if you weren't told it's a Marvel Pop? I had no clue at first, but hey, you might appreciate the subtlety. This one is marked down to $8 at Amazon, although the Spider-Man, Wolverine, Venom, and Deadpool ones range between $6 and $9 apiece.



---