Best Gaming Deals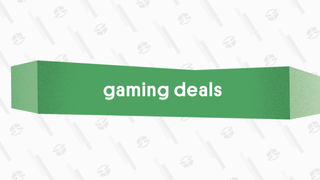 Best Gaming Deals
The best deals on games, consoles, and gaming accessories from around the web, updated daily.
Featured Deal: Marvel's Avengers M.O.D.O.K. | $5 |GameStop
The best Funko Pop deals of June 2021 are here.
Love 'em or hate 'em, Funko Pop toys are absolutely ubiquitous. There's a licensed Funko toy for nearly every significant movie, TV series, comic book, and video game, not to mention many bands, celebrities, and historical icons. And we're still barely scratching the surface.
There are thousands of Funko Pop toys out there, and thankfully it's not that difficult to find some excellent deals. We've picked many of our favorites below, with prices as low as $4 each.
Funko has amassed a wide array of pop culture icons for rainbow-slathered Pride Pop! editions shipping later this month. Amazon has a handful of them marked down to $9 each for pre-orders, including Deadpool, WALL-E, Stitch, Mickey Mouse, and a Star Wars Stormtrooper. Drop in an order now to ensure that you get 'em!

G/O Media may get a commission
The launch of the highly-anticipated Cyberpunk 2077 game was a bit of a disaster, although there's still hope that the technical issues will eventually be overcome. We've already seen the game on sale for as little as half the retail price, and now you can get this V Male Pop from GameStop for just under half-price as well. Nice.

M.O.D.O.K. is one of the goofier-looking Marvel villains, although his star has risen a fair bit soon thanks to the new animated series with Patton Oswalt behind the hovering, giant-head cyborg thing. In any case, M.O.D.O.K. also appeared in the recent Marvel's Avengers video game, and the Pop based on that version is just $5 at GameStop.

Just as comic book collectors wrap their issues to protect their investment, serious Funko Pop collectors seal up their mint-in-box scores in protective shielding. Still, you don't have to be a Funko die-hard to want to protect your collectables. Right now, Amazon is offering a couple bucks off of this official Plastic Pop Protector, which holds any standard-sized Pop box.

Mandalorian Funkos have been in high demand, and they keep on coming. Released in January, this deluxe Funko Pop depicts Mando himself riding a Bantha with lil' Baby Yoda strapped in for the ride. The list price is $33, but you can grab it for just $22 at Amazon right now.

Launched to mark 2020 as the 65th anniversary of the opening of Disneyland, this adorable deluxe Pop shows Donald Duck on the classic Matterhorn roller coaster. Die-hard Disney parks fans will want to add this to their collection, and maybe (just maybe) it'll help ease the agonizing wait until you can safely visit again. Save $11 at Amazon right now.

The modern Ms. Marvel, or Kamala Khan, is undoubtedly one of Marvel's best creations in recent memory, and the young heroine was one of the best parts of the recent Marvel's Avengers game. This particular Pop shows her sleek outfit from that game, plus it's nearly half-off the list price right now at Hot Topic. The game is down to $25 at Amazon, too, if you missed it.

Hey, racing fans! Right now you can snag this rendition of driving legend Mario Andretti—the only person to win a Formula One season, Indianapolis 500, and Daytona 500—for just $6 at Amazon. This Funko Pop shows the Italian-born racing legend, whose children and grandchildren have also gone on to successful driving careers, in one of his many post-win looks.

Mr. Toad's Wild Ride might sound like a euphemism, but of course it's a real, classic Disneyland attraction—and now it's a deluxe Funko Pop, too. Mr. Toad here is part of a line of Pops created to celebrate the park's 65th anniversary, and Amazon is currently offering it for nearly one-third off the $30 list price.

Baby Yoda produced the hottest Pops of last year, and here's a deluxe Funko selection—a scene, actually, featuring both The Child and The Mandalorian. It's 48% off the list price, marked down from $33 to just $17 at Amazon.

Relive that moment from Season 2 of The Mandalorian with this Child with Egg Canister Funko Pop Deluxe scene. This bobblehead version of Baby Yoda stands alongside the object of his affection, and you can save $8 off of this recent release at Amazon right now.

We haven't seen the original The Child Funko Pop consistently available for quite a while, but Amazon has it ready to ship right now. It's only a buck off the list price, but savings are savings—and more importantly, if this has been on your wish list for some time, now you can hopefully grab it.



---