Best Tech Deals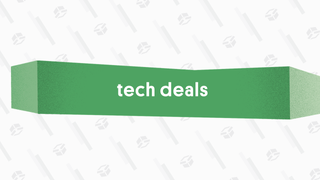 Best Tech Deals
The best tech deals from around the web, updated daily.
Featured Deal: HP 11.6" Chromebook | $170
The best HP deals for August 2020 are here.

If you current laptop or desktop isn't quite delivering the performance you expect, then now's the time to check out HP's best current deals. We've rounded up bargains on computers ranging from cheap, entry-level laptops to powerhouse gaming desktops, and a fair bit in between.
HP is also offering stellar deals on printers, monitors, and other peripherals, so have a look at the deals below. Don't wait to take advantage of these savings!
If you're in the market for a budget-friendly laptop and aren't bound to Windows, then it's hard to do much better than HP's 11.6" Chromebook. It's small and very modestly powered, but Google's Chromebooks don't need a lot of hardware to get the job done.

G/O Media may get a commission
Better yet, you can snag this tiny wonder for a mere $170 right now at Best Buy, which is $50 off the list price.
Print your smartphone snaps with ease with the HP Sprocket photo printer. Simply download the HP Sprocket app and then you can connect to this compact printer via Bluetooth to print sticky-backed photos that you can put anywhere.

Best Buy has this model for $40 off right now, so jump on this deal and get to snapping soon!
Get a dirt-cheap Windows PC with the HP 14" Laptop, available for just $250 at Best Buy. As you might expect, it's a low-specced number with an AMD Athlon 3050U processor, 4GB RAM, 128GB of internal storage, and a 1366x768 screen.

Still, if your needs are pretty basic—like web browsing, word processing, streaming media, and video chat— then this Windows 10 laptop could be a serious cash-saver. It's $80 off right now.
Snag something with a bit more premium allure with this HP Pavilion x360 2-in-1 Touch Laptop, which has a convertible design that swaps from laptop to tablet in a hurry.

It's still not packing very high-end specs, between the Intel Core i3 processor and 1366x768 display, but at least it's a touch display—and this laptop is currently $100 off at Best Buy.
If you're looking for a good-sized screen that's an even better bargain, then Amazon's price on the HP Pavilion 21.5" 1080p LED monitor ought to be very appealing.

For just $100, you get a solidly large screen with ultra-wide viewing angles and both HDMI and VGA inputs. Amazon customers give it a strong 4.4 stars, too.
If Google's services are your speed, then HP's version of a Chromebook doesn't cost a whole lot with this configuration. Amazon has a 14" Chromebook with a AMD A4-9120 2.2GHz, processor, 4GB RAM, 32GB of storage, and a 1080p display.

This cloud-centric laptop is built around Chrome, Google Docs, and other web-based services, plus you can download and install Android apps and games. We've seen lesser configurations of this laptop sell for more cash, so definitely jump on this deal while it lasts. This renewed (refurbished) model is $50 off the new price right now at Amazon.
Save a fair chunk of change off of this refurbished laptop from Newegg. This modest Windows 10 Pro device has a 6th-gen Intel Core i5 processor, 8GB RAM, and a 256GB SSD, although the 14" display is low-res at 1366x768.
On the upside, unlike the vast majority of current laptops, it has a DVD-ROM drive. Really! It's $130 off the usual price right now.

HP is slashing $310 off the starting list price of its 15t model laptop right now. This Windows 10 PC comes with a 10th-gen Intel Core i7 in this config, along with a 256GB SSD and 12GB RAM.
The one big downside is a sub-1080p 15.6" screen, although you can pay a bit extra to bump that up to Full HD.

If you're more keen on a desktop than a notebook, HP's Envy desktop is a modestly-priced option that'll give you solid power for a range of everyday tasks.
Right now, the base configuration is $100 off from HP.com, with a 10th Gen Intel Core i3 processor, 8GB RAM, a 256GB SSD, and loads of handy ports for plugging in peripherals and external memory. You'll need to provide your own monitor, keyboard, and mouse for this one.
Get some solid gaming power without breaking the bank with HP's OMEN 25L gaming desktop. It's relatively modest on the gaming side of things, with an NVIDIA GeForce GTX 1650 GPU alongside the Intel Core i5 processor and 8GB RAM and a 256GB SSD.
Still, that's plenty of power to run most of today's competitive PC games with solidly smooth results. And it's $100 off at HP right now.

Check out this beast, which is currently $130 off the list price at Amazon. For your sizable investment, you'll get a top-tier gaming rig complete with an NVIDIA GeForce RTX 2080 SUPER 8GB GPU onboard.

It also has a 9th-Gen Intel Core i9 processor, 32GB RAM, and a 1TB SSD—and yes, it's definitely ready for whatever VR headset you throw at it.
---