Best Tech Deals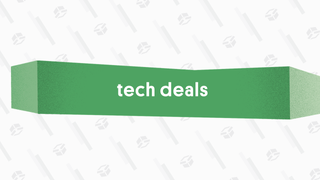 Best Tech Deals
The best tech deals from around the web, updated daily.
Featured Deal: HP Flash Sale
It's a busy week in the ecommerce world, and HP has just thrown its hat into the ring with a brand new Flash Sale. Running through Wednesday, the 72-hour promotion delivers stellar bargains on laptops, desktops, printers, monitors, and accessories.
Whether you need something entry-level and affordable, a PC primed for serious gaming, or something in between those extremes, you'll probably find an appealing deal in the mix.
Hit HP's landing page for the full selection, or keep scrolling for our picks of the best deals in the bunch. You might want to check HP's page regularly, however, as the computing giant is offering bonus bargains during certain time windows, as well as limited quantities of doorbuster prices daily on some products.
G/O Media may get a commission
Here's the most affordable laptop in HP's Flash Sale: an entry-level Windows 10 device that might not be a powerhouse, but should be just right for basic everyday usage and media streaming. You'll get a 14" HD screen here with an AMD processor and GPU, along with 8GB RAM and a solid 128GB SSD for storage. It's only $10 off, but it's already a killer price.
The HP Laptop 15Z is a lean little number: modest on power, but with a big screen and solid enough specs to handle everyday browsing, streaming, and such. The base 15Z has an AMD Ryzen 3 processor with AMD Graphics, Windows 10 Home, 8GB RAM, and a 128GB SSD within. The 15.6" screen is low-res at 1366x768 and it doesn't sound like it's super bright, but Netflix and YouTube ought to look just fine on here. It's $20 off right now.
Want to go BIG at a bargain? Amazingly, you can get a Windows laptop with a huge 17.3" screen for just $430 right now in HP's Flash Sale. This HP Laptop 17Z has lightweight specs, as you might expect, with an AMD Athlon Gold processor and AMD Radeon Graphics, plus 12GB of RAM. It does have a solid amount of space via a 256GB SSD, though. Look, a 17.3" display at 1600x900 resolution isn't going to be super crisp, but at least you'll have ample real estate for multitasking.
You don't have to spend a lot more to get a pretty nice power upgrade with the HP Laptop 15T. This notebook has a 10th-gen Intel Core i5 processor with 12GB of RAM, and a solid (state) 256GB SSD. The 15.6" screen has the same resolution as the Laptop 15Z above. The savings here is pretty significant, though, at $210 off the list price, for a limited time only.
Save extra $50 on Oct. 13 from 9am-1pm PT
This is the cheapest desktop in HP's sale: a slim tower that should have just enough power to give you smooth sailing across everyday tasks like streaming media, browsing the web, and typing up documents.
The compact computer has an AMD Ryzen 3 processor inside with AMD Radeon Graphics, 8GB RAM, and a huge 1TB hard drive paired with a speedy 256GB SSD. You even get a DVD-RW drive in the mix. Save $70 off the list price during the sale, or check back on October 13 between 9am-1pm PT to save an additional $50 to bring the price down to $330.
Game on while saving $150 in the process with the HP Envy Desktop. It's well-equipped, thanks to the Nvidia GeForce GTX 1660 SUPER (6GB) GPU, with a 10th-gen Intel Core i7 chip alongside, plus 16GB RAM, a 2TB hard drive, and a 256GB SSD. It's certainly not tippy-top-of-the-line, but this modest rig nails the sweet spot between price and performance.
This HP All-in-One PC bundles both the brains and screen into one package, saving space while delivering a solid home desktop. With a 10th-gen Intel Core i3 chip and 8GB memory, it won't be a beast for gaming or intense productivity. However, the 21.5" 1080p display and pairing of a 1TB hard drive and 128GB SSD will give you loads of space for media and more. It's $50 off right now.
Save $45 off the list price of this killer HP OMEN gaming monitor during the Flash Sale. It's a crisp QHD display at 2560x1440 resolution, and on top of that it has a 240Hz refresh rate for ultra-smooth performance. It's still pricey, but games will look spectacular on this thing.
Only 25 units at this price daily
HP's slimmest-ever LCD monitor is an affordable option right now at up to a $60 discount from the usual price. This 23" display comes at a solidly crisp 1080p resolution and has both HDMI and VGA inputs.

There are larger, pricier HP monitors right there, but this is a bargain choice if you're looking to save some cash. HP is only offering 25 of these monitors at this price daily during the sale, through October 14, otherwise they'll be available at $145.
Here's an ideal cost-effective monitor to go with one of those affordable desktops above. This 24" LED-backlit monitor is a good size and will be solidly crisp at 1080p resolution, with VGA, DVI, and HDMI ports for connectivity. It's $40 off the list price right now. And if you're looking for something larger, wider, or crisper, HP has many other higher-end monitor options available.



---