Best Gaming Deals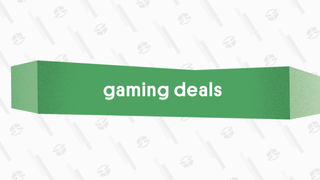 Best Gaming Deals
The best deals on games, consoles, and gaming accessories from around the web, updated daily.
Featured Deal: LEGO Star Wars AT-ST Raider | $40 | Amazon
These are the best LEGO deals for May 2021.
If you're looking for something to occupy your quarantine hours, why not pick up a new LEGO set or two? They're mentally stimulating, whether you're building to instructions or just creating things from scratch, and they're a great activity whether you're solo or with family. Right now, you'll find solid savings on LEGO sets inspired by Super Mario, Star Wars, Minecraft, and more. Scroll on for today's best LEGO deals!
If you held off on picking up the LEGO Super Mario starter kit, now's the time: it's 20% off at Amazon. While the price-per-brick ratio may seem way off for a 231-piece set, that's because you get a digitally-enhanced Mario here with video-screen eyes and the ability to interact with the game courses you construct. Beyond the starter pack, many of the expansion packs are also 20% off, as listed below.

G/O Media may get a commission
Exclusive for new customers
Caliper CBD
There's a whole wave of connected toys that help teach kids coding basics, from Star Wars droids to Harry Potter wands—and yes, LEGO has gotten in on the (learning) fun too.

The LEGO Boost Creative Toolbox gives you 847 pieces with instructions for five different builds, and they're all interactive: the roving tank-tread robot and blocky cat all respond to your coding activities in the tablet app. (Yes, you'll need to provide your own tablet.) It's not a cheap bundle, but Amazon has it for $32 off the list price right now.
Recreate this moment from Harry Potter and the Prisoner of Azkaban with Hagrid's Hut and Buckbeak's grim sentence, as this set has everything you need to uh… execute a Hippogriff.

Things ultimately work out in the end, thankfully, but you can reimagine the scene however you see fit. You get the hut, a pumpkin patch, six minifigs (including Harry and Hagrid), and Buckbeak himself—all for $12 off the list price for this 496-piece kit.
If you're looking for a pretty sick, large-scale Star Wars build to keep you busy in the coming weeks, check out this Kylo Ren's Shuttle set. It has 1,005 pieces and results in a sizable set that's over 13 inches high and 19 inches wide, and has six minifigures including Kylo himself and a pair of his Knights of Ren. Save $19 right now at Amazon.

This 540-piece Mandalorian set sadly doesn't have any Baby Yoda in sight, but what it does have is a pretty sick-looking AT-ST walker that's been heavily modified from the original Empire issue. You also get minifigs of The Mandalorian himself and ally Cara Dune, as well as a pair of Klatooinian Raider baddies, all for $10 off of the list price right now.

Big Tony Stark fan? Now you can add the Iron Man Hall of Armor to your LEGO Avengers setup for $12 off of the list price. It comes with four different Iron Man suits, including a swappable Stark head, plus two enemy Outriders and a big robotic Igor Suit that you can put Tony Stark into. This 524-piece set is 20% off.

Speed junkies, point your eyes and wallets here. This LEGO Speed Champions set gives you a pair of Dodge roadsters for just $24. You'll build the 2018 Dodge Challenger SRT Demon and the classic 1970 Dodge Charger R/T, plus a pair of drivers, a race marshal, and a Christmas tree-style starting light tower. It's 20% off the list price right now and a surprisingly stellar value at 478 pieces for that price.

Save $8 right now on the familiar Central Perk cafe location from the classic NBC sitcom, Friends. This 1,070-piece LEGO Ideas offering comes with minifigs for all six of the key characters, as well as employee Gunther, and is a nostalgic blast from the past at a surprisingly great price-per-brick value.

Amazon is already taking up to 20% off a handful of new LEGO City sets released for 2021. The largest is the 388-piece LEGO City Family House, which comes with a car and a few minifigures, and it's 20% off at $48. The other sets, listed below, are headlined by the $33 LEGO City Skate Park and $24 LEGO City Airshow Jet Transporter.

Well, this is one of the more delightful LEGO Minecraft sets we've seen to date. The Pig House is quite literally a home built in the shape of a large, pink pig, and the 490-piece build even includes a waterfall coming from the mouth. Like we said, delightful. You also get a couple of smaller pigs, a Creeper, and an Alex minifig in the bundle, which is 18% off right now.

The LEGO City Cargo Train is easily the most expensive and most ambitious set on this list right now, thanks to its remote control capabilities. This 1,226-piece set comes with a cargo train with four cars, a command center, six minifigures, and rail tracks - as well as a 10-speed Bluetooth controller used to operate the railway. It's currently $33 off the regular price.

Amazon has a few LEGO Architecture skyline builds on sale right now for 20% off.The 740-piece Dubai set with Burj Khalifa and more is just $48, while the 649-piece Paris and 565-piece San Francisco sets land at just $40 a pop.

If you're buying LEGO for a young kid, start with one of the LEGO Classic boxes. This Medium set is a good size, providing a robust 484 pieces within a handy plastic carrying case.

Without step-by-step directions, this set is ideal for getting kids familiar with the tiny blocks and unlocking a bit of creativity in the process. Of course, there are larger Duplo blocks for the really young'uns, but LEGO suggests this is ideal for ages 4+. It's $11 off right now.




---