Best Gaming Deals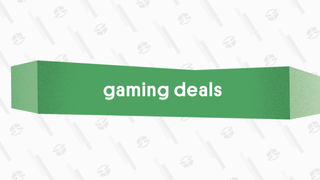 Best Gaming Deals
The best deals on games, consoles, and gaming accessories from around the web, updated daily.
Featured Deal: LEGO Marvel Avengers Iron Man Hall of Armor | $48
These are the best LEGO deals for June 2020.

If you're looking for something to occupy your quarantine hours, why not pick up a new LEGO set or two? They're mentally stimulating, whether you're building to instructions or just creating things from scratch, and they're a great activity whether you're solo or with family.
Right now, you'll find solid savings on LEGO sets inspired by Marvel's Avengers, Harry Potter, Overwatch, Star Wars, Minecraft, and more. Scroll on for the deals!
This is a PSA rather than a deal. Right now, you can pre-order the new LEGO Super Mario Adventures Starter Course, which gives you an interactive playset inspired by the classic video game levels.

This 231-piece set is pricey due to the technological edge, including Mario's LCD eyes and color sensors, but it's sure to be damn near impossible to track down once it releases this fall. Order it while you can!
Big Tony Stark fan? Now you can add the Iron Man Hall of Armor to your LEGO Avengers setup for $12 off of the list price.

It comes with four different Iron Man suits, including a swappable Stark head, plus two enemy Outriders and a big robotic Igor Suit that you can put Tony Stark into. This 524-piece set is 20% off.
Take your LEGO crew on a magical journey with Poppy's hot air balloon from the recent Trolls World Tour film.

Along with the vibrant balloon, this 250-piece set includes Poppy herself, Branch, Biggie, and Mr. Dinkles. Save 17% off of this new kit right now at Amazon.
If you're buying LEGO for a young kid, start with one of the LEGO Classic boxes. This Large set gives you a sizable pile of 790 pieces to start with.

Without step-by-step directions, this set is ideal for getting kids familiar with the tiny blocks and unlocking a bit of creativity in the process. Of course, there are larger Duplo blocks for the really young'uns, but LEGO suggests this is ideal for ages 4+. It's $16 off right now.
At times, Minecraft can be intense and action-packed. At other times, it can be loose and breezy. In the case of this LEGO set, it's downright adorable.

The Panda Nursery set comes with 204 pieces, letting you create a mom and baby panda, Alex, an ocelot, and a rooftop bed. It's 15% off right now.
Ensure that your LEGO City cruisers can keep roving the bricky metropolis with this 354-piece Service Station.

In addition to the gas station itself, you can build two vehicles and four minifigures, plus it comes with a dog… and a hot dog. This set is $10 off the list price at Amazon.
Now this looks like a fun set. In a moment straight out of The Empire Strikes Back, you can relive the classic Echo Base battle with real firing cannons.

The set has an AT-AT walker, a few base pieces, a probe droid, and five minifigs, and the spring-loaded cannons can launch LEGO missiles. There's a trio of targets on each side of this battle with explosive results, giving this 504-piece set an added layer of interactivity.
The largest and priciest of all the LEGO Overwatch sets has a more sizable discount than usual right now, marked down $23 off the list price.

The 730-piece Gibraltar set, inspired by an in-game level in Blizzard's first-person shooter, is built around a spaceship launch pad complete with ship and four hero minifigs: Winston, Mercy, Pharah, and Winston.
This small 121-piece set recreates the climactic showdown from Harry Potter and the Prisoner of Azkaban.
It's short on set pieces, but has a nice complement of character minifigs including Harry himself, Sirius Black, and a pair of Dementors, along with Harry's stag Patronus.
Relive the exciting battle from last summer's Spider-Man: Far From Home with this fun LEGO recreation, which centers on a large, lava-dripping Molten Man.
This 294-piece set also includes minifigs of Spider-Man, Mysterio, and a firefighter, and you can save $6 off the list price right now at Amazon.
Hidden Side is one of the cool recent original LEGO lines, and the hook here—aside from some spooky settings and enemies—is an augmented reality twist. With a smartphone app, you can turn the plastic bricks into an interactive digital experience.
But even if you probably won't spend a lot of time with the app, this looks like a fun, cartoonishly eerie option for kids and adults alike. Amazon has lots of sets at a 20% discount right now, including this Graveyard Mystery one.
Here's another Overwatch kit that is more significantly discounted than usual right now. These two creations are smaller than Bastion, but you get a pair of distinctive characters in one set.
Here, you get a pair of characters—D.Va and Reinhardt—each with a mech suit that he/she slides into, and it's currently 35% off the list price at Amazon.
There's a whole wave of connected toys that help teach kids coding basics, from Star Wars droids to Harry Potter wands—and yes, LEGO has gotten in on the (learning) fun too.
The LEGO Boost Creative Toolbox gives you 847 pieces with instructions for five different builds, and they're all interactive: the roving tank-tread robot and blocky cat all respond to your coding activities in the tablet app. (Yes, you'll need to provide your own tablet.) It's not a cheap bundle, but Best Buy has it for $32 off the list price right now.
---