Best Gaming Deals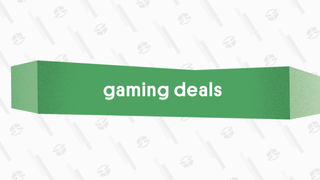 Best Gaming Deals
The best deals on games, consoles, and gaming accessories from around the web, updated daily.
Featured Deal: LEGO Star Wars Darth Vader's Castle | $121
These are the best LEGO deals for August 2020.

If you're looking for something to occupy your quarantine hours, why not pick up a new LEGO set or two? They're mentally stimulating, whether you're building to instructions or just creating things from scratch, and they're a great activity whether you're solo or with family.
Right now, you'll find solid savings on LEGO sets inspired by Star Wars, Minecraft, Minions, Toy Story, Frozen, and more. Scroll on for today's best LEGO deals!
While not the most sizable discount, this is the first time we've seen any cash knocked off the price of this Amazon-exclusive LEGO rendition of Darth Vader's castle.

This big build has 1,060 pieces and includes the lava-tinged castle itself, which has little rooms accessible from the back—including Vader's bacta tank. You also get a small TIE Fighter ship along with Vader himself in both suited and bacta tank forms, two Imperial Guards, and an Imperial Transport Pilot. You'll save nearly $9 on this one right now.
G/O Media may get a commission
We will get the new live-action Mulan movie soon… just via Disney+ instead of theaters. In any case, if you've got a young Mulan fan in the house, here's an affordable and fun LEGO option.

Mulan's Storybook Adventures is a compact set that comes in a booklike case that you can close and take anywhere, and within is an environment complete with two versions of Mulan, Li Shang, and Khan the horse. It's 20% off at Walmart right now.
Big Tony Stark fan? Now you can add the Iron Man Hall of Armor to your LEGO Avengers setup for $12 off of the list price.

It comes with four different Iron Man suits, including a swappable Stark head, plus two enemy Outriders and a big robotic Igor Suit that you can put Tony Stark into. This 524-piece set is 20% off.
Recreate this moment from Harry Potter and the Prisoner of Azkaban with Hagrid's Hut and Buckbeak's grim sentence, as this set has everything you need to uh… execute a Hippogriff.

Things ultimately work out in the end, thankfully, but you can reimagine the scene however you see fit. You get the hut, a pumpkin patch, six minifigs (including Harry and Hagrid), and Buckbeak himself—all for $12 off the list price for this 496-piece kit.
This 540-piece Mandalorian set sadly doesn't have any Baby Yoda in sight, but what it does have is a pretty sick-looking AT-ST walker that's been heavily modified from the original Empire issue.

You also get minifigs of The Mandalorian himself and ally Cara Dune, as well as a pair of Klatooinian Raider baddies, all for $10 off of the list price right now.
At times, Minecraft can be intense and action-packed. And at other times, it can be loose and breezy. In the case of this LEGO set, it's downright adorable.

The Panda Nursery set comes with 204 pieces, letting you create a mom and baby panda, Alex, an ocelot, and a rooftop bed. It's 15% off right now.
If you've got a stash of LEGO (or plan to buy one) but your family is running out of ideas while being cooped up right now, this officially-licensed book might help.

365 Things to Do With LEGO Bricks is a hardcover book that spotlights a wide array of potential building projects, and it even has a built-in electronic timer for certain challenges. Save $7 right now at Amazon and have a year's worth of bright ideas ahead.
Speed junkies, point your eyes and wallets here. This LEGO Speed Champions set gives you a pair of Dodge roadsters for just $24.

You'll build the 2018 Dodge Challenger SRT Demon and the classic 1970 Dodge Charger R/T, plus a pair of drivers, a race marshall, and a Christmas tree-style starting light tower. It's 20% off the list price right now and a surprisingly stellar value at 478 pieces for that price.
Still got The Mandalorian on the brain? This set likewise doesn't have a Baby Yoda in tow, but you do get a quartet of Mandalorian warriors ready to wage battle against your other minifigs.

This compact set has the four variously-designed Mandalorian fighters along with a small speeder bike and a defensive fort, all crammed within 102 pieces. It's only a 10% discount, but even so you don't have to spend much here to add some awesome minifigs to your LEGO Star Wars setup.
This summer's planned release of Minions: The Rise of Gru didn't happen thanks to the pandemic, but if you've ever dreamed of constructing your own Minions with LEGO bricks, you don't have to wait.

The officially-licensed Minions sets slipped out even amidst the film's delay, and this set gives you a surprisingly generous 876 bricks for the price… probably because it's a lot of plain yellow and blue ones in the mix. Still, the end result is a pair of large Minions and a trio of smaller ones at a price that's currently 10% off list at Walmart.
If you're buying LEGO for a young kid, start with one of the LEGO Classic boxes. This Medium set is a good size, providing a robust 484 pieces within a handy plastic carrying case.

Without step-by-step directions, this set is ideal for getting kids familiar with the tiny blocks and unlocking a bit of creativity in the process. Of course, there are larger Duplo blocks for the really young'uns, but LEGO suggests this is ideal for ages 4+. It's $8 off right now.
We haven't seen many deals on LEGO Architecture kits of late, so this is a special bargain. Right now, you can save $20 off the price of the towering Statue of Liberty kit.

With 1,685 pieces, it's a meaty challenge aimed at anyone 16+, and the end result stands 17 inches tall. Grab this deal while it lasts!
Here's a great little entry-level kit for younger kids. This LEGO Toy Story 4 build lets you assemble RC and Woody, complete with orange cones, little army men, and building blocks for the surroundings.

It's only 69 blocks within a simplified build, and is rated 4+, and right now it's 20% off the list price at a mere $8.
If you don't have a baseplate for anchoring buildings, landscapes, and other custom creations, then this is an easy and affordable upgrade—especially for kids.

Right now, Amazon has the 10" x 10" green baseplate for just $5, which is half off the regular price. If you're buying a new LEGO Classic kit, don't forget to grab a couple of these as well.
For an affordable, modestly-sized 342-piece kit, this is a pretty sick-looking Batmobile. It looks angular and powerful, and all the more intimidating with the Dark Knight in the driver's seat.

Along with Batman and Joker minifigs, you also get various Bat-cessories, while the Batmobile itself has spinning exhaust flames and stud shooters. Save 18% on this one right now.
---