Best Gaming Deals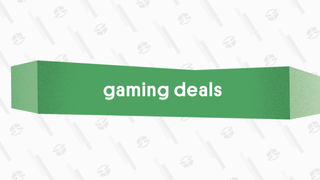 Best Gaming Deals
The best deals on games, consoles, and gaming accessories from around the web, updated daily.
Featured Deal: LEGO Star Wars: Attack of the Clones Yoda | $85 | Amazon
These are the best LEGO deals for April 2021.
If you're looking for something to occupy your quarantine hours, why not pick up a new LEGO set or two? They're mentally stimulating, whether you're building to instructions or just creating things from scratch, and they're a great activity whether you're solo or with family. Right now, you'll find solid savings on LEGO sets inspired by Star Wars, Minecraft, and more. Scroll on for today's best LEGO deals!
This might be the biggest little Yoda toy you've ever seen. The LEGO Star Wars: Attack of the Clones set produces a 16" tall Yoda, complete with neon green lightsaber, and also has a regular Yoda minifigure and display plaque. It's nearly $15 off the list price right now, and delivers a shocking price-per-brick value given the 1,771 pieces within.

G/O Media may get a commission
Bra Bearies Strawberry CBD Gummies
The LEGO City Cargo Train is easily the most expensive and most ambitious set on this list right now, thanks to its remote control capabilities. This 1,226-piece set comes with a cargo train with four cars, a command center, six minifigures, and rail tracks - as well as a 10-speed Bluetooth controller used to operate the railway. It's currently $32 off the regular price.

Even if you didn't love The Rise of Skywalker, this orange-centric X-Wing is a pretty amazing-looking starfighter, and you can build it at a nearly $11 discount with this Amazon deal. The 761-piece set drops down to $79 right now and comes with minifigures for Poe, R2-D2, Jannah, and one Knight of Ren, plus the ship has interactive elements.

If you haven't built one of the remote-controlled LEGO Technic sets before, this might be a perfect starting point. Right now, this RC Stunt Racer is $11 off the list price. It can be built into two totally different configurations, both with tank treads, motors and a receiver, a remote, and the ability to drive the completed car all over the place.

Set course for the red planet with this LEGO City Space kit. The main attraction is a sleek shuttled headed to an unfamiliar destination. You'll have a couple of astronaut minifigs to help explore the new terrain, not to mention a Mars rover, a tiny Helidrone, and other gadgets. This STEM-centric set has 273 pieces and is currently 20% off the list price.

LEGO makes some pretty cool licensed car builds, but after seeing this Ducati Panigale V4 kit, I'm starting to think the bikes are even radder. This sleek build recreates the sporty motorbike using 646 pieces, with the gearbox and suspension adding further detail to the already eye-catching build. Save $11 at Amazon.

Some of the new-for-2021 LEGO City sets are already marked down 18-19% off at Amazon, including the Skate Park, Airshow Jet Transporter, Holiday Camper Van, and Race Buggy Transporter. If you haven't built these fresh kits, now's the time to grab a few and start building your own brick metropolis.

Amazon has a few LEGO Architecture skyline builds on sale right now for 20% off.The 740-piece Dubai set with Burj Khalifa and more is just $48, while the 649-piece Paris and 565-piece San Francisco sets land at just $40 a pop.

The Illagers are coming! Build and then help save the village in this 2020 Minecraft set, which has 562 bricks and includes three buildings and the menacing Ravager. You'll also get five minifigs in the set, and right now it's marked down 20% from $60 at Amazon.

Finally, one of the greatest sources of Harry's misery is a LEGO set. We're half-kidding, but seriously, those Dursleys are real jerks. Now you can build their Muggle house and plot Harry's increasingly whimsical escapes in this meaty 797-piece set, which includes the Dursley trio, Harry, Ron, Dobby, Hedwig the owl, and the Weasleys' flying car. Save $14 off the list price.

Have you ever built LEGO dinosaurs before? This one doesn't look very blocky, to be honest, but the Baryonyx is the star of this set that seems to be inspired by a LEGO Jurassic World animated series. Along with the dino, you'll get four minifigs from the franchise and a dog too, with the 434-piece set also including a buggy, a trailer, and a jungle scene. It's 20% off at Amazon.

Right now, you can save $21 off the price of the towering Statue of Liberty kit. With 1,685 pieces, it's a meaty challenge aimed at anyone 16+, and the end result stands 17 inches tall. If you're looking for a big distraction right about now, this should fit the bill.

If you're buying LEGO for a young kid, start with one of the LEGO Classic boxes. This Medium set is a good size, providing a robust 484 pieces within a handy plastic carrying case.

Without step-by-step directions, this set is ideal for getting kids familiar with the tiny blocks and unlocking a bit of creativity in the process. Of course, there are larger Duplo blocks for the really young'uns, but LEGO suggests this is ideal for ages 4+. It's $9 off right now.


---