Best Gaming Deals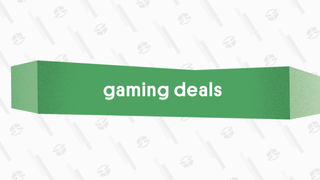 Best Gaming Deals
The best deals on games, consoles, and gaming accessories from around the web, updated daily.
Featured Deal: LEGO Star Wars Mandalorian AT-ST Raider | $40 | Amazon
These are the best LEGO deals for January 2021.

If you're looking for something to occupy your quarantine hours, why not pick up a new LEGO set or two? They're mentally stimulating, whether you're building to instructions or just creating things from scratch, and they're a great activity whether you're solo or with family.
Right now, you'll find solid savings on LEGO sets inspired by Super Mario, Star Wars, Frozen, and more. Scroll on for today's best LEGO deals!
Last summer's planned release of Minions: The Rise of Gru didn't happen thanks to the pandemic, but if you've ever dreamed of constructing your own Minions with LEGO bricks, you don't have to wait.

The officially-licensed Minions sets slipped out even amidst the film's delay, and this set gives you a surprisingly generous 876 bricks for the price… probably because it's a lot of plain yellow and blue ones in the mix. Still, the end result is a pair of large Minions and a trio of smaller ones at a price that's currently 20% off list at Amazon.
G/O Media may get a commission
Speed junkies, point your eyes and wallets here. This LEGO Speed Champions set gives you a pair of Dodge roadsters for just $24.

You'll build the 2018 Dodge Challenger SRT Demon and the classic 1970 Dodge Charger R/T, plus a pair of drivers, a race marshall, and a Christmas tree-style starting light tower. It's 20% off the list price right now and a surprisingly stellar value at 478 pieces for that price.
Walmart has slashed $11 off this recently-released LEGO Star Wars: Return of the Jedi - Death Star Final Duel set, letting you recreate the climactic scene from the original trilogy-capper. This 775-piece set comes with Luke, Darth Vader, the Emperor, and a pair of Imperial Royal Guards.

Get a trio of sweet superhero mechs inspired by Spider-Man, Thanos, and Iron Man, respectively in this three-pack set. Each build is approximately 150 pieces, with a total of 452 pieces in the box, and each mech comes with the hero's minifigure that slots into the machine. Save $8 off the list price at Amazon right now.

This 540-piece Mandalorian set sadly doesn't have any Baby Yoda in sight, but what it does have is a pretty sick-looking AT-ST walker that's been heavily modified from the original Empire issue. You also get minifigs of The Mandalorian himself and ally Cara Dune, as well as a pair of Klatooinian Raider baddies, all for $10 off of the list price right now.

The LEGO City Cargo Train is easily the most expensive and most ambitious set on this list right now, thanks to its remote control capabilities. This 1,226-piece set comes with a cargo train with four cars, a command center, six minifigures, and rail tracks - as well as a 10-speed Bluetooth controller used to operate the railway. It's currently $17 off the regular price.

Set course for the red planet with this LEGO City Space kit. The main attraction is a sleek shuttled headed to an unfamiliar destination.

You'll have a couple of astronaut minifigs to help explore the new terrain, not to mention a Mars rover, a tiny Helidrone, and other gadgets. This STEM-centric set has 273 pieces and is currently 20% off the list price.
If you still have Frozen II looping constantly in your home right now to satiate the young'uns (thanks, Disney+), then this might be an ideal pick-up for the moments that the screen turns off.

This adorable kid-friendly build lets you construct a functional jewelry box to put your own jewelry into, and it even comes with a couple of plastic rings. It's 300 pieces altogether, and is $8 off at Amazon right now.
If you've already snagged the core LEGO Super Mario building set that comes with the blocky, iconic plumber himself, then now you can begin adding onto your plastic levels with the very wide array of expansion sets. Amazon has many of them for 20% off right now, including the Guarded Fortress expansion, Toad's Treasure Hunt, and Piranha Plant Power Slide. And if you don't have the starter set, it's $4 off right now.
This is a super-cool LEGO Technic build for a catamaran boat that actually floats on water. You can build it tall with a sail or short like a motorboat, and this 404-piece set is $10 off now.

If you're buying LEGO for a young kid, start with one of the LEGO Classic boxes. This Medium set is a good size, providing a robust 484 pieces within a handy plastic carrying case.

Without step-by-step directions, this set is ideal for getting kids familiar with the tiny blocks and unlocking a bit of creativity in the process. Of course, there are larger Duplo blocks for the really young'uns, but LEGO suggests this is ideal for ages 4+. It's $9 off right now.





---