Best Gaming Deals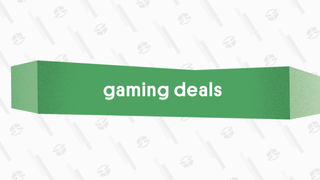 Best Gaming Deals
The best deals on games, consoles, and gaming accessories from around the web, updated daily.
Featured Deal: LEGO Technic RC Stunt Racer | $81
These are the best LEGO deals for September 2020.

If you're looking for something to occupy your quarantine hours, why not pick up a new LEGO set or two? They're mentally stimulating, whether you're building to instructions or just creating things from scratch, and they're a great activity whether you're solo or with family.
Right now, you'll find solid savings on LEGO sets inspired by Star Wars, Minecraft, Spider-Man, Toy Story, and more. Scroll on for today's best LEGO deals!
It's a monster truck. It's a burger truck. It's a… wait for it… monster burger truck. Now that's three words that sound pretty great together. In fact, this original LEGO Creator set comes with instructions for three different builds with its 499 pieces, and right now you'll save 14% off at Amazon.

G/O Media may get a commission
Some of the LEGO Minecraft sets are more whimsical in nature, but this one is all action. The Blaze Bridge is a lava-filled environment with interactive elements, and four minifigures: heroine Alex, a Wither Skeleton, and a pair of Blazes. It's 20% off right now at Amazon.

This is a super-cool LEGO Technic build for a catamaran boat that actually floats on water. You can build it tall with a sail or short like a motorboat, and this 404-piece set is $10 off now.

The largest and priciest of all the LEGO Overwatch sets has a more sizable discount than usual right now, marked down $22 off the list price.

The 730-piece Gibraltar set, inspired by an in-game level in Blizzard's first-person shooter, is built around a spaceship launch pad complete with ship and four hero minifigs: Winston, Mercy, Pharah, and Winston.
LEGO 2020 Advent Calendars | $20-30 Each
Got a little LEGO lover in the home? These new LEGO advent calendars are fresh for 2020, each featuring 24 little LEGO prizes for each day leading up to Christmas in December.

Each one is marked down $10 right now: the Star Wars and Harry Potter sets are $30 each, while the LEGO City one is just $20. Each bundle has 300+ pieces and might be worth grabbing now—not only while the deal is live, but also while they're still easy to track down.
If you haven't built one of the remote-controlled LEGO Technic sets before, this might be a perfect starting point. Right now, this RC Stunt Racer is $19 off the list price. It can be built into two totally different configurations, both with tank treads, motors and a receiver, a remote, and the ability to drive the completed car all over the place.

This might be the biggest little Yoda toy you've ever seen. The LEGO Star Wars: Attack of the Clones set produces a 16" tall Yoda, complete with neon green lightsaber, and also has a regular Yoda minifigure and display plaque.

It's $10 off the list price right now, and delivers a shocking price-per-brick value given the 1,771 pieces within.
If you're looking for a time-consuming challenge, consider this LEGO Technic Land Rover Defender. You can't drive this one around with a remote, but it's an intricate build with 2,573 pieces and a final build that measures 16" long. Save $22 right now at Amazon.

Relive the memorable moment from last year's Spider-Man: Far From Home with this fun LEGO recreation, which centers on a large, lava-dripping Molten Man.

This 294-piece set also includes minifigs of Spider-Man, Mysterio, and a firefighter, and you can save 24% off the list price right now at Amazon.
Walmart has already slashed $11 off this new-release LEGO Star Wars: Return of the Jedi - Death Star Final Duel set, letting you recreate the climactic scene from the original trilogy-capper. This 775-piece set comes with Luke, Darth Vader, the Emperor, and a pair of Imperial Royal Guards.

This 540-piece Mandalorian set sadly doesn't have any Baby Yoda in sight, but what it does have is a pretty sick-looking AT-ST walker that's been heavily modified from the original Empire issue.

You also get minifigs of The Mandalorian himself and ally Cara Dune, as well as a pair of Klatooinian Raider baddies, all for $10 off of the list price right now.
Speed junkies, point your eyes and wallets here. This LEGO Speed Champions set gives you a pair of Dodge roadsters for just $24.

You'll build the 2018 Dodge Challenger SRT Demon and the classic 1970 Dodge Charger R/T, plus a pair of drivers, a race marshall, and a Christmas tree-style starting light tower. It's 20% off the list price right now and a surprisingly stellar value at 478 pieces for that price.
If you're buying LEGO for a young kid, start with one of the LEGO Classic boxes. This Medium set is a good size, providing a robust 484 pieces within a handy plastic carrying case.

Without step-by-step directions, this set is ideal for getting kids familiar with the tiny blocks and unlocking a bit of creativity in the process. Of course, there are larger Duplo blocks for the really young'uns, but LEGO suggests this is ideal for ages 4+. It's $9 off right now.


---