Best Home Deals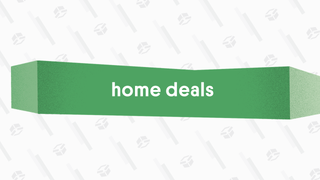 Best Home Deals
The best home, kitchen, smart home, and automotive deals from around the web, updated daily.
Featured Deal: Nutri Ninja Nutrient Extraction Single Serve Blender | $59
The best Ninja Kitchen deals of August 2020 are here.
Enhance your kitchen at a discount with the best Ninja deals around. Ninja makes all sorts of kitchen appliances, from blenders to choppers, coffee makers, pressure cookers, air fryers, and more, and many of its top products are currently on sale. Save a bundle while upping your cooking game.
Looking for a blender without all of the extra attachments and stuff? Here it is: the 1000W Ninja Professional 72oz Blender.

This BL710WM model can crush ice, make smoothies, and blend up all kinds of things as you please. It's 21% off the list price now, which means you can get a potentially massive blender upgrade for just $79 from Walmart.
G/O Media may get a commission
This solo smoothie maker uses 900 watts of powerful spinning blade action to produce nutrient-packed beverages.
The Nutri Ninja blender can slice and dice through fruit, veggies, and ice alike, and comes with both 18oz and 24oz cups with to-go lids for easy transport. It's $20 off right now at Walmart.
If coffee is your morning lifeblood and your current setup isn't getting you the top-quality hot bean juice that you demand, consider a Ninja upgrade.

Ninja's programmable coffee maker can produce up to 12 cups of Joe and lets you program it to begin brewing at a certain time, plus you can choose between standard and richer brews. Save $30 off the new list price at Amazon with this renewed (refurbished) edition.
Blenders are typically for cold or room-temperature items, but the Ninja Foodi Blender with Heat-iQ adds a heating component as well.
It's a powerful 1400W blender, but one that also contains an 800W heating element designed to warm up dips, soups, cheese, and chocolate, or even infuse flavors into drinks. You can grab it at Walmart for $61 off right now.
Have you heard about the magic of air frying? These devices are getting a lot more buzz lately due to their ability to deliver crispy veggies and meats with a lot less fat than traditional frying.

The immensely well-reviewed Ninja Foodi 8-in-1 Digital Toaster and Air Fryer also air roasts, air broils, bakes, dehydrates, and more, plus you can tip it upright so that it takes up less counter space when not in use. This Amazon renewed version is $61 cheaper than the new list price at the moment.
The Ninja 7-in-1 Pressure, Slow Cooker, and Air Fryer crams a bunch of devices into one, roasting up veggies and meats in a variety of ways at a massive discount. Right now, it's $30 off the list price and comes with a nesting broil rack. If this 5-quart version doesn't seem large enough to meet your needs, then look into the 6.5-quart or 8-quart versions instead.
Go even larger with the Ninja Foodi 9-in-1 pressure cooker, which also broils, dehydrates, slow-cooks, air fries, and more.

This versatile device has a 6.5-quart capacity and comes with a dehydrator that some configurations lack. It's $59 off the list price right now.
Some of the devices on this page do air frying along with a bunch of other things, but you'll pay extra for those perk-packed offerings. Just want an air fryer to crisp up your food with less fat? Ninja's basic AF101 Air Fryer is $40 off the new list price right now when you buy renewed… and besides, it also air roasts, dehydrates, and reheats food.
If you're serious about brewing beverages, then Ninja's Hot and Cold Brewed System is your one-stop station for custom drinks. Whether it's hot coffee or tee, a cup or a carafe, iced beverages, or frothing milk, Ninja's system can get you sorted. Right now, it's $20 off too, and it might be worth the investment if you're missing your daily trip to the coffee shop.

If you're running through your Nutri-Ninja cups often or could use a nice, new set of 'em, you can grab a two-pack of 24oz cups for $5 off list at Nordstrom Rack right now. These are official Ninja cups that work with Ninja Auto-iQ blenders.
If you're shelling out for a new kitchen appliance, then you probably ought to learn how to use the thing well, right? The official Ninja Foodi complete cookbook spans pressure cooking, dehydrating, air frying, and more. It has recipes, quick tips, and strategies so you can make the most of your new Foodi device, and it's nearly half-off the list price.
---