Best Gaming Deals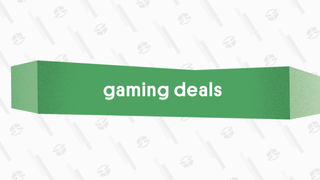 Best Gaming Deals
The best deals on games, consoles, and gaming accessories from around the web, updated daily.
Featured Deal: Paper Mario: The Origami King | $43 | Amazon
These are the best Nintendo Switch deals for June 2021.
Even with summer arriving and the pandemic easing up in some places, it's still prime time to find a comfy spot inside and lose yourself in a great game. Luckily, you can find some killer deals on Switch games right now, including a mix of recent and older releases, along with stellar accessory bargains below.
If you're looking for a long-lasting bargain, you can't do much better than the XCOM 2 Collection for Switch. Priced at a mere $15 right now, this set includes the core sci-fi tactical strategy game along with the War of the Chosen expansion and other post-release add-on content. You could potentially pour hundreds of hours into this game if you wanted, and XCOM 2 is a beloved critical smash—so you might want to! This game requires a download of at least 24GB, so you will probably need a microSD card to ensure that you have enough storage.

G/O Media may get a commission
If you're not one of the millions of Animal Crossing devotees that snapped up this perfect-for-pandemic chillfest last year, now's your chance. Right now, Animal Crossing: New Horizons is $10 off, which is the best we've seen on a new copy since release. It's been more than a year since it launched and the game is still going strong with fresh updates and a rabid community around it. Join the fun!

Nintendo's Ring Fit Adventure was damn near impossible to find during the early months of the pandemic, but now Amazon has it in stock for $10 off. Ring Fit Adventure is a fitness-centric role-playing adventure that finds you slotting one Joy-Con controller into the included ring peripheral and attaching the other to your leg, using motion controls to challenge you while providing a surprisingly serious workout.

Looking for a whimsical role-playing adventure? Last year's Paper Mario: The Origami King introduces a unique threat to the flat world of this spinoff franchise, as Mario battles to stop everyone and everything from being transformed into origami. It's a bit action, a bit puzzle, and a bit RPG, but all pretty delightful and hilarious to boot. Save nearly $17 at Amazon.

Sure, Mario Golf: Super Rush is on the horizon—but if you're more into the real-deal stuff, PGA Tour 2K21 is a pretty stellar simulation. The Switch version isn't as pretty as the others, but the golfing fundamentals are strong and it's loaded with officially-licensed courses and pro golfers. Best of all, it's marked down massively from the $60 list price.

Clip the coupon on the page
Ubisoft's juggernaut annualized dancing series just won't stop, which means that Just Dance 2021 is here right on schedule. And right now, you can save $22 off the list price of the latest entry, which has hit songs like Lizzo's "Juice" and The Weeknd's "Blinding Lights" in the mix. Get movin' on this deal and then get movin' in your home. Clip the coupon on the page for full savings.

The seemingly unending battle between veggies and the undead continues on in Plants vs. Zombies: Battle for Neighborville. This is essentially Garden Warfare 3, with the original tower defense smash transformed into a cartoonish third-person shooter with lively characters and entertaining online modes. This Complete Edition for Switch arrived after the other platforms, so it comes with a bunch of bonus content bundled in, and right now it's just $25 at Amazon.

Just released on Switch in February, Super Mario 3D World + Bowser's Fury pairs the excellent multiplayer platformer from the Wii U with a brand new side game called Bowser's Fury. It's a mini-campaign with a neat new open-world approach, and both pieces make this another fantastic Mario experience on Switch. Save $10 at Amazon right now.
Yes, the Switch's little Joy-Con controllers detach from the system and snap into the little controller shell that comes in the box—but if you're planning on playing a lot of Switch games on your TV, especially more complex, skill-based games, then you'll want a hardier controller with full-sized analog sticks and more responsive-feeling buttons. The official Switch Pro Controller is great but pricey, but at least you can save $11 off the list price at Amazon right now!

Want an epic role-playing game to sink your teeth into? Xenoblade Chronicles: Definitive Edition refreshes the stellar original Wii odyssey with crisper graphics and a brand new epilogue, delivering the sci-fi quest for a new generation of players. It's nearly $18 off the list price right now from Amazon.

Just released in December, Ubisoft's Immortals Fenyx Rising is an open-world adventure inspired by Greek mythology as much as it is Nintendo's Legend of Zelda: Breath of the Wild. It hails from the developers of Assassin's Creed Odyssey, but is tighter in focus, cartoonish in style, and pretty funny to boot. It's $20 off at Amazon.



---