Best Gaming Deals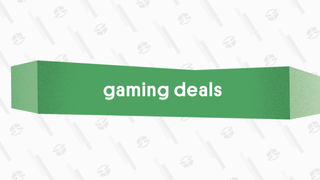 Best Gaming Deals
The best deals on games, consoles, and gaming accessories from around the web, updated daily.
Featured Deal: $50 eShop Gift Card | $45 | Newegg | Use code 4APRVTCH2
These are the best Nintendo Switch deals for April 2021.
Even with spring blooming and the pandemic easing up in some places, it's still prime time to find a comfy spot inside and lose yourself in a great game. Luckily, you can find some killer deals on Switch games right now, including a mix of recent and older releases, along with stellar accessory bargains below.
Also, Nintendo has started announcing the big Switch games for 2021, including The Legend of Zelda: Skyward Sword HD and Mario Golf: Super Rush, both of which are out this summer. You can pre-order both at Amazon now. Earlier today, Nintendo also revealed Pokémon Brilliant Diamond & Shining Pearl, both launching later this year, as well as 2022's open-world Pokémon Legends: Arceus. Pre-order those at Best Buy!
Use promo code 4APRVTCH24 at checkout

Want free money to use towards your Switch eShop digital game purchases? That's essentially what you'll get with this Newegg deal, which is offering up $50 eShop gift cards for the price of just $45 apiece when you use promo code 4APRVTCH24 at checkout. That's a few extra bucks to put towards future games, so it might be worth investing in more than one if you want to shave a bit off of (or add more games to) your future gaming budget.

G/O Media may get a commission
Bra Bearies Strawberry CBD Gummies
While this particular SanDisk microSD card doesn't have any cute Nintendo branding on it, the price is much lower than you'll see for the licensed versions. In any case, they all work the same, and this one gets you a meaty 200GB of storage for just over $22 right now at Amazon. Load up on games and add-on content so you're always ready to play, wherever you are.

Looking for a Switch wireless controller that features one of your favorite games? If your favorite games include Pokémon, Cuphead, or Super Meat Boy, then you're in luck. Right now, Amazon is offering discounts on licensed controllers featuring those hits, and the savings range from 17% to 31% off the list price. Check 'em out below.

Save $13 off the regular retail price for the new augmented reality, physical-meets-digital Mario Kart Live: Home Circuit, which lets you build a course around your home and then command an RC kart via your Switch. It was tough to find over the holidays, but now the Mario version sees a solid discount.

There are cheaper Switch headsets, no doubt, but if you want something that's robust and looks and sounds like a serious gaming device, look no further than the Razer Kraken. It has a noise-reducing, retractable microphone, along with gel-cooled ear cushions and large 50mm drivers. It'll work with all devices, too, so you can use it on PC or another console if you please. The Razer Kraken is $20 off at Amazon.
There's still a few weeks left in the NBA regular season, and if you want to hoop it up on the Switch while cheering on your favorite team, you can grab the latest NBA 2K21 simulation for just $19 right now. While the graphics aren't quite as staggeringly lifelike as on more powerful platforms, there's still a lot to dig into here.
Looking for one game that could potentially last you for months and months ahead? Look no further than Sid Meier's Civilization VI, the latest entry in the life-consuming strategy franchise, in which you build up a civilization that can last through the ages. It's down massively from the original launch price of $60.
Ubisoft's juggernaut annualized dancing series just won't stop, which means that Just Dance 2021 is here right on schedule. And right now, you can save $19 off the list price of the latest entry, which has hit songs like Lizzo's "Juice" and The Weeknd's "Blinding Lights" in the mix. Get movin' on this deal and then get movin' in your home.

Capcom is just launched the much-anticipated Monster Hunter Rise on Switch to strong reviews, but if you haven't experienced the series and don't want to jump in at a full $60, here's an option. Right now, the earlier Monster Hunter Generations Ultimate is only $27 at Amazon. It provides a meaty adventure full of beast-slaying combat, complete with online and local co-op play.

Just released in December, Ubisoft's Immortals Fenyx Rising is an open-world adventure inspired by Greek mythology as much as it is Nintendo's Legend of Zelda: Breath of the Wild. It hails from the developers of Assassin's Creed Odyssey, but is tighter in focus, cartoonish in style, and pretty funny to boot. It's more than half off at Amazon.

Nintendo's Ring Fit Adventure was damn near impossible to find during the first few months of the pandemic, but now Amazon has it in stock for $10 off. Ring Fit Adventure is a fitness-centric role-playing adventure that finds you slotting one Joy-Con controller into the included ring peripheral and attaching the other to your leg, using motion controls to challenge you while providing a surprisingly serious workout.



---