Best Gaming Deals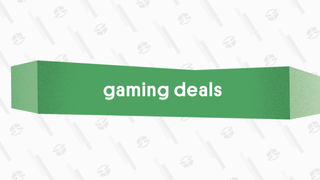 Best Gaming Deals
The best deals on games, consoles, and gaming accessories from around the web, updated daily.
Featured Deal: The Legend of Zelda: Breath of the Wild | $40 | Best Buy
These are the best Nintendo Switch deals for January 2021.
Between the cold weather and the never-ending pandemic, it's prime time to find a comfy spot inside and lose yourself in a great game. Luckily, you can find some killer deals on Switch games right now, with all-time gems like The Legend of Zelda: Breath of the Wild and Super Mario Odyssey on sale alongside more recent faves. You'll also find some great accessories on sale in our list of today's top Nintendo deals below.
Widely regarded as the Switch's crowning masterpiece and one of the greatest games of this generation, The Legend of Zelda: Breath of the Wild launched alongside the system nearly four years ago. It's $20 off right now—one of the biggest discounts we've ever seen.

G/O Media may get a commission
Nintendo made another all-time great with Super Mario Odyssey, a larger-scale exploration of the series' 3D branch. It has a bit more of a sandbox feel within large, open environments that are widely varied, and feels as wondrously creative as past gems like Super Mario 64 and Super Mario Galaxy. Save $20 right now.

Think you've the skills to out-build the likes of Mario creator Shigeru Miyamoto and other Nintendo legends? Prove it with Super Mario Maker 2 on Switch.

This expanded sequel doesn't deviate too much from the Wii U original, giving you easy-to-use tools to create and share your own inventive, potentially devious 2D Mario courses. The toolset is bigger now, however, as is the fun. Snag it for $20 off right now.
If you're looking for a new game that you can download and play right away, Amazon is offering 30% off a selection of digital games for Switch. The sale includes big games like Splatoon 2, Yoshi's Crafted World, Arms, and Super Mario Maker 2 for $42 apiece, as well as Clubhouse Games and Captain Toad: Treasure Tracker for $28. You'll receive the download code shortly after purchase, and you can redeem it in the Switch console's game store.

One of the most acclaimed and beloved games in recent memory, Celeste is a charming indie game about a young woman who attempts to climb a mountain while also dealing with her own mental obstacles within. With slick pixel graphics, a dreamy soundtrack, and challenging platform gameplay, it's a must-play—and a digital code is half-off at Amazon right now.

Get the party started in Super Mario Party, which reintroduces the classic local multiplayer board game battle for the Switch generation.

It's as likely as ever to elicit a mix of joy, rage, cheers, and boos alike as you compete in quick-hit mini-games around a digital game board. This version even lets you line up two Switch systems for multi-screen activities. It's $20 off at Amazon right now.
In classic Nintendo fashion, Luigi's Mansion 3 takes an intense and adult-oriented genre (survival horror) and makes a super-charming, silly, and all-ages transformation of it. You don't need to have played the older versions to appreciate this recent adventure, which finds the other Mario brother sucking up ghosts with his vacuum pack and trying to rescue his friends after being duped into a stay at a haunted hotel. It's $15 off right now.

If you've already been through the brilliant Breath of the Wild, there's another stellar Legend of Zelda game on Switch. This one is decidedly more old-school in design… and that's because it's a remake of the classic Game Boy entry, Link's Awakening.

You wouldn't know it from a glance, however, as the whole game has been thoroughly redone in a glossy graphical style that makes it look like toy figurines at play. Save $15 right now.
You never know when you might need an extra Switch controller or two handy, whether it's for young kids or for friends and family. Assuming you don't want to spend large for extra Joy-Cons or Pro Controllers, PowerA has this officially licensed wired Mario controller for $10 off right now.
While the Switch is hardly ground zero for fighting game action, it has some serious gems on it, including Mortal Kombat 11 and Dragon Ball FighterZ. If the Switch is your console of choice and you still want to get the arcade-style experience, grab this PowerA Fusion Wireless Arcade Stick while it's half-off at $65. It has a full-sized joystick and buttons and can be used wirelessly via Bluetooth or wired via USB-C.

We don't have any of the core Kingdom Hearts games on Switch, but at least you can savor the music from the beloved Disney/Final Fantasy mash-up role-playing series with the newly-released Kingdom Hearts: Melody of Memory. This rhythm game revisits the world and characters of the series in bite-sized chunks, which makes it ideal for Switch play. It's $15 off at Amazon right now.

Give you Switch or Switch Lite console a safe slumber inside the dome of the sleepiest Pokémon thanks to this officially-licensed PowerA carrying case, now $8 off. Snorlax's head opens up to reveal space for either handheld, a bevy of game cartridges, and accessories, and then it all zips back up with a handle for easy transport.

Ubisoft's juggernaut annualized dancing series just won't stop, which means that Just Dance 2021 is here right on schedule. And right now, you can save $20 off the list price of the latest entry, which has hit songs like Lizzo's "Juice" and The Weeknd's "Blinding Lights" in the mix. Get movin' on this deal and then get movin' in your home.
One of the Switch's best early puzzlers just got a brand new sequel, and Amazon is already taking $10 off the list price. Puyo Puyo Tetris 2 is a mash-up of the two titular puzzle series, with a clever hybrid model that works well across multiplayer, an RPG-like mode, and more.

If you're downloading games from the Switch eShop, then you'll probably need some extra space. Luckily, the Switch accommodates affordable microSD cards, and there are even Nintendo-branded versions from SanDisk.

This official microSD card has a Mario mushroom on it and is currently on sale for $25, marked down $10. However, if you can deal without the branding, you can grab a standard 128GB SanDisk microSD card for $14… and it works just as well.



---