Best Gaming Deals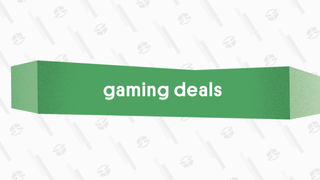 Best Gaming Deals
The best deals on games, consoles, and gaming accessories from around the web, updated daily.
Featured Deal: Fire Emblem: Three Houses | $30 | GameStop
These are the best Nintendo Switch deals for Black Friday 2020.

Between the cool weather creeping in and the never-ending pandemic, it's prime time to find a comfy spot inside and lose yourself in a great game. Luckily, you can find some killer deals on Switch games right now, with gems like Fire Emblem: Three Houses, The Legend of Zelda: Link's Awakening, and several others on sale. You'll also find some great accessories on sale in our list of today's top Nintendo deals below.
Ubisoft's juggernaut annualized dancing series just won't stop, which means that Just Dance 2021 is here right on schedule. And right now, you can save $20 off the list price of the latest entry, which has hit songs like Lizzo's "Juice" and The Weeknd's "Blinding Lights" in the mix. Get movin' on this deal and then get movin' in your home.

G/O Media may get a commission
10" LED Ring Kit
Save half-off the list price of Spyro Reignited Trilogy, a remastered trio of classic original PlayStation games given fresh life on Switch. These family-friendly games crib some of the 3D Mario formula, but you'll hop and explore as a fire-breathing purple dragon in colorful worlds full of inviting characters.

If you're a fan of Ubisoft's historical open-world adventure series, this is an incredible deal. Right now, Assassin's Creed: The Rebel Collection is just $20 on Switch.

You get two huge full games here: the critically acclaimed, pirate-themed Assassin's Creed IV: Black Flag, and the slightly under the radar (but still good) Assassin's Creed Rogue. Both games have all of their single-player add-on content included, too, and you could easily pour 100+ hours into this set.
Fire Emblem: Three Houses is yet another critically acclaimed strategy smash in the long-running series, and if you're looking for an epic game to keep you entertained over the cooler months ahead, you can't do much better than this. It's half-off at GameStop.

New Super Mario Bros. U Deluxe is an updated rendition of the Wii U original, delivering a classic-feeling side-scrolling Mario game with modern graphics. You can play with up to four players, plus the Switch version has extra accessibility features to help younger players start playing quickly. It's $25 off right now

Yoshi's Crafted World is a super-charming platform adventure starring Mario's best dinosaur pal, all set in a world that looks like it's made of cardboard, yarn, and other found materials. It's $30 off at GameStop.
Hit the court in Mario Tennis Aces, the latest and greatest entry in Nintendo's long-running, arcade-style sports bonanza.

While the basics haven't really changed, this version introduces super-powered special shots, plus there's a single-player story mode complete with missions and boss battles. It's half off the regular price right now at GameStop.
Even three years after release, Splatoon 2 remains one of the absolute best online multiplayer games on Switch. This vibrant riff on squad-based shooters has you blasting, tossing, and launching paint around levels to try and dominate the terrain, along with other other fun variations on the theme, a solid single-player campaign, and a great wave-based survival mode. Save $25 off at Best Buy or Amazon right now.
If you've already been through the brilliant Breath of the Wild, there's another stellar Legend of Zelda game on Switch. This one is decidedly more old-school in design… and that's because it's a remake of the classic Game Boy entry, Link's Awakening.

You wouldn't know it from a glance, however, as the whole game has been thoroughly redone in a glossy graphical style that makes it look like toy figurines at play. Best Buy and Amazon have it for $20 off right now, which is about the best deal we've seen for a new copy.
Look, we're as surprised as anyone to see that Best Buy still has the Switch Lite console in stock as of this writing. In fact, they have all four colors right now, which we haven't seen anywhere in ages.

The $200 price is MSRP, but given how scarce all Switch systems have been during the pandemic, now's the time to strike: you certainly won't find it any cheaper right now.
Clip the coupon on the page

If you're a big Animal Crossing fan and you want a thematically appropriate case for your Switch or Switch Lite, consider this Lamyba sleeve with a shoulder strap. It provides modest protection with its fabric build and comes with both a wrist strap and the aforementioned shoulder strap. Save a few bucks off right now when you clip the coupon.

Big games on a little screen! 2K Games ported three of its top franchises from other consoles and PC to the Switch in content packed bundles earlier this year, and they're currently discounted at Amazon.

The BioShock Collection gives you a trio of bold and distinctive first-person shooter campaigns, while the XCOM 2 Collection gives you the complete version of the critically acclaimed turn-based strategy gem and Borderlands Legendary Collection has a trio of cartoon-stylized, over-the-top, looter-shooter favorites.
Save $25-30 on any of 'em right now. Note that you'll definitely need a microSD card for these, as all three require a significant download to access the entire game.
If you're not one of the millions of Animal Crossing devotees that snapped up this perfect-for-pandemic chillfest this spring, now's your chance. Right now, Animal Crossing: New Horizons is $10 off, which is the best you're likely to see on a new copy anytime soon. Grab it while it lasts!

Looking for one game that could potentially last you throughout the entire pandemic quarantine? Look no further than Sid Meier's Civilization VI, the latest entry in the life-consuming strategy franchise, in which you build up a civilization that can last through the ages. It's a fraction of the original $60 list price right now.

If you're downloading games from the Switch eShop, then you'll probably need some extra space. Luckily, the Switch accommodates affordable microSD cards, and there are even Nintendo-branded versions from SanDisk.

This official microSD card has a Mario mushroom on it and is currently on sale for $20, marked down 43%. However, if you can deal without the branding, you can grab a standard 128GB SanDisk microSD card for $16… and it works just as well.








---