Best Gaming Deals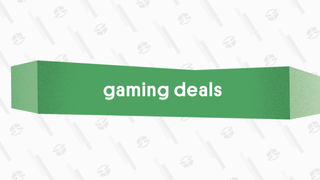 Best Gaming Deals
The best deals on games, consoles, and gaming accessories from around the web, updated daily.
Featured Deal: Buy 2 Get 1 Free Games | Amazon
These are the best Nintendo Switch deals for March 2021.
Between the cold weather and the never-ending pandemic, it's prime time to find a comfy spot inside and lose yourself in a great game. Luckily, you can find some killer deals on Switch games right now, including recent hits like Hyrule Warriors: Age of Calamity and Mario Kart Live: Home Circuit, as well as modern classics and budget picks alike. You'll also find some great accessories on sale in our list of today's top Nintendo deals below.
Amazon's holding a big Buy 2 Get 1 Free sale on physical media right now, and there's a good chunk of Switch games in the mix. The cheapest item is free, naturally, and some of the most compelling Switch games in the sale are Just Dance 2021, Puyo Puyo Tetris 2, Mortal Kombat 11, Katamari Damacy Reroll, Sonic Mania/Team Sonic Racing (2-Pack), and Ori and the Will of the Wisps.

This promotion also includes PlayStation and Xbox games, as well as movies, TV shows, physical music, and books, so have a browse and stock up while it's cheap.
G/O Media may get a commission
In a more just world, the Tokyo 2020 Summer Olympics would have taken place last summer. Instead, we still have COVID-19 and misery… and rumors that the delayed Olympics will ultimately be canceled. Well, at least there's video games.

The official video game adaptation—released in late 2019—stars rivals Mario and Sonic and their respective crews as they battle for international supremacy across archery, boxing, soccer, and more. Plus, along with the modern 3D events, there are also retro throwback versions with pixel graphics that hit like a beautiful nostalgia bomb. It's $25 off at Amazon.
"Get over here!" Actually, you know what? Stay where you are: with the Switch, you can play Mortal Kombat 11 wherever you please. That's your decision. The Switch rendition is just as feature-rich and entertaining as those on more powerful platforms, and right now this 2019 fighter is down significantly from its original $60 launch price.

What does Legacy Edition mean? Well, it means that the Switch version of FIFA 21 hasn't really seen any notable gameplay enhancements, nor does it pack in the extensive game modes from other consoles. But it is the latest version of the annual football simulation with up-to-date rosters—and if that's what you're looking for, it's marked down nearly half from $50 right now.

Save $5 off the regular retail price for the new augmented reality, physical-meets-digital Mario Kart Live: Home Circuit, which lets you build a course around your home and then command an RC kart via your Switch. It was tough to find over the holidays, but now the Luigi version of the game sees a slight discount here.

One of the wackiest games ever made finds a great new home on Switch with Katamari Damacy Reroll. This enhanced version of the cult classic PlayStation 2 original still sees you rolling an ever-growing ball around levels as you collect items, animals, people, and quite a bit more. Why? Well, to create a new constellation in the sky and appease the King of All Cosmos. It's a delight and it's $10 off at Amazon right now.

Nintendo's Ring Fit Adventure was damn near impossible to find during the first few months of the pandemic, but now Amazon has it in stock for $10 off. Ring Fit Adventure is a fitness-centric role-playing adventure that finds you slotting one Joy-Con controller into the included ring peripheral and attaching the other to your leg, using motion controls to challenge you while providing a surprisingly serious workout.

Nintendo's biggest new Switch game is $10 off at Amazon right now. Hyrule Warriors: Age of Calamity revisits the world and characters of the brilliant The Legend of Zelda: Breath of the Wild, but with frenetic hack-and-slash gameplay that'll see you dispatch literally thousands of foes along the way.

By nature of the console's middling popularity, Captain Toad: Treasure Tracker seemed widely overlooked when it first debuted on Wii U. But now on Switch, it's another low-key Nintendo gem to put on your wish list. This charming platform-puzzler is on sale right now for $7 off. Not only do you get the full original game, but also new courses inspired by the brilliant Super Mario Odyssey.

Want an epic role-playing game to sink your teeth into? Xenoblade Chronicles: Definitive Edition refreshes the stellar original Wii odyssey with crisper graphics and a brand new epilogue, delivering the sci-fi quest for a new generation of players. It's $16 off the list price right now from Amazon.

You never know when you might need an extra Switch controller or two handy, whether it's for young kids or for friends and family. Assuming you don't want to spend large for extra Joy-Cons or Pro Controllers, PowerA has this officially licensed wired Mario controller for $10 off right now.
While the Switch is hardly ground zero for fighting game action, it has some serious gems on it, including Mortal Kombat 11 and Dragon Ball FighterZ. If the Switch is your console of choice and you still want to get the arcade-style experience, grab this PowerA Fusion Wireless Arcade Stick while it's half-off at $65. It has a full-sized joystick and buttons and can be used wirelessly via Bluetooth or wired via USB-C.

We don't have any of the core Kingdom Hearts games on Switch, but at least you can savor the music from the beloved Disney/Final Fantasy mash-up role-playing series with the newly-released Kingdom Hearts: Melody of Memory. This rhythm game revisits the world and characters of the series in bite-sized chunks, which makes it ideal for Switch play. It's $15 off at Amazon right now.

Give you Switch or Switch Lite console a safe slumber inside the dome of the sleepiest Pokémon thanks to this officially-licensed PowerA carrying case, now $8 off. Snorlax's head opens up to reveal space for either handheld, a bevy of game cartridges, and accessories, and then it all zips back up with a handle for easy transport.

Ubisoft's juggernaut annualized dancing series just won't stop, which means that Just Dance 2021 is here right on schedule. And right now, you can save $20 off the list price of the latest entry, which has hit songs like Lizzo's "Juice" and The Weeknd's "Blinding Lights" in the mix. Get movin' on this deal and then get movin' in your home.
If you're downloading games from the Switch eShop, then you'll probably need some extra space. Luckily, the Switch accommodates affordable microSD cards, and there are even Nintendo-branded versions from SanDisk.

This official microSD card has a Mario mushroom on it and is currently on sale for $25, marked down $10. However, if you can deal without the branding, you can grab a standard 128GB SanDisk microSD card for $15… and it works just as well.



---