Best Home Deals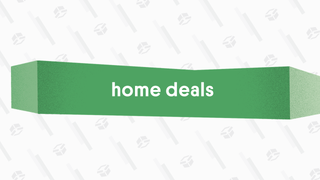 Best Home Deals
The best home, kitchen, smart home, and automotive deals from around the web, updated daily.
Featured Deal: Philips Hue White and Color Smart Button Starter Kit | $153
It's time for the best Philips deals for August 2020.

You'll find the Philips brand across a variety of products, including smart lighting, electric toothbrushes, shavers, and even baby bottles. Luckily, all of that stuff also has a strong reputation for quality, so you're likely to get something great when you see the Philips name.
Many of Philips' top products are on deep discount right now, and we've collected today's best Philips deals below. Have a look!
Pesky nose hairs popping out and bothering you? No worries: employ the Philips Norelco Nosetrimmer 1000, which at least sounds futuristic and menacing.

In reality, though, it's just a really basic and useful electric device that can gently clear out your nose hairs, ear hair, and eyebrows in a matter of minutes. This battery-powered trimmer is just $10 at Walmart.
G/O Media may get a commission
Clip the coupon on the page

Get started with smart lighting with this handy kit, which contains the Philips Hue hub and three of the A19 smart bulbs that can be tuned to any color you please. It also has a smart button that can be personalized via the app to perform different actions.

Hue's colorful bulbs are pricey; anything cheaper is typically one of the white bulbs instead. This starter set is 15% off the list price right now when you clip the coupon on the page, making it easy for you to get up and running. You can even control them with Amazon's Alexa, Apple's HomeKit, and the Google Assistant.
Prepare for an impending infant (or help a friend or family member get ready) with the Philips Avent Natural Baby Bottle Newborn Starter Gift Set.

This bundle gives you three smaller bottles and two larger ones, along with two additional specialized nipples, seven sealing disks, two pacifiers, and a specialized cleaning brush. It's knocked down 40% right now.
Big fan of soup? Why wouldn't you be? If you're keen on making your own soups of all sorts but want to avoid the usual mess that comes along, check out the Philips Soup Maker.

Currently $20 off list at Amazon, it… well, it makes soup. You'll load in your ingredients, choose the settings, and then it handles the rest: blending and heating, and getting it ready to pour in as little as 18 minutes. It'll make cold soups and smoothies, too.
Save $20 on this Walmart-exclusive Philips Norelco 6850 electric shaver, which comes with a pair of handy attachments: a precision trimmer and nose hair trimmer.

All told, you'll be able to get a reliably close shave, not to mention a smooth one thanks to the 72 self-sharpening SkinProtect blades and ComfortGlide rings.
Philips' TVs aren't sold too widely these days, but Walmart carries 'em and is currently offering an excellent deal on this crisp 43" 4K HDR Smart TV. Powered by the Android TV interface, this sizable set is currently $40 off the list price at Walmart.
Save $55 right now on this Philips Hue Smart Flushmount light, which is designed to add a flashy accent to any ceiling or wall.

You'll need a Hue hub to take advantage of the smartphone trickery to change the warmth of the light and control the light from afar, but if you have one, it's compatible with the rest of your Hue home setup.
Add a couple of handy white bulbs to your Philips Hue smart home array for $5 off the list price right now at Amazon.

These A19 bulbs aren't the fancy color-changing ones, but Hue bulbs of all types rarely see much of a discount. These can link into the same Hue Hub setup you already have at home, extending the voice- and app-activated illumination into more corners of your space.
Here's some serious savings on some serious cans. Philips' Audio Fidelio X2HD over-ear, open-air headphones are built for hi-res audio, although they'll also work just fine with streaming music and other sources.

With 50mm drivers and memory foam earcups, these premium headphones usually cost a bundle… but right now, they're more than 50% off the usual $300 list price.
If you don't need the fancy color-changing bulbs and just want to get up and running with Philips' Hue smart lighting system, this starter kit can do the trick at a discount.

Right now, you can save $33 on this set, which has four A19 LED white smart bulbs and the Hue Bridge that connects to your wireless router, letting you control all of your home's smart bulbs from an app.
Get an epic brushing with Philips' Sonicare DiamondClean Classic, one of the company's higher-end electric toothbrushes. It's $35 off the list price right now in black, with white and pink colors also available (check prices on those).

It promises to clean your teeth up to seven times better than a manual toothbrush, with multiple brushing settings available. It also comes with a carrying case and a glass that you can both drink from and charge the toothbrush within. Handy!
Philips promises a "close, fast shave" with the Norelco 5100 Electric Shaver Wet & Dry, which sounds pretty great to me. Even better: it's $16 off right now.

The 5-direction flex heads are here to get the job done, and for the hairier individuals out there, the precision trimmer will come in handy too.
You don't need to spend a bundle to get a Philips Sonicare electric toothbrush. The company's entry-level rechargeable model promises a 2x improvement in clearing plaque compared to manual brushing.

However, this one's much cheaper than some others—it's $9 off right now. Note that it uses Philips' screw-on heads rather than the snap-on versions used by some higher-end models.
---