Best Home Deals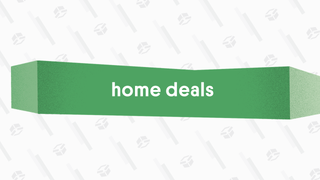 Best Home Deals
The best home, kitchen, smart home, and automotive deals from around the web, updated daily.
Featured Deal: Philips LED Dimmable BR40 Bulbs (6-Pack) | $35
It's time for the best Philips deals for July 2020.

Whether it's light bulbs, electric shavers and toothbrushes, baby bottles, or headphones, you can find the Philips brand all over the place. And luckily, the long-standing brand is one that's known for quality, even across so many disparate industries.
Some of Philips' most popular products are on sale right now, too, including Hue smart lighting, electric toothbrushes, and hi-res audio headphones. Have a look at today's best Philips deals below.
Right now, you can save nearly $18 on a six-pack of Philips LED dimmable BR40 soft white light bulbs with a warm glow effect, designed for an E26 base.

G/O Media may get a commission
These aren't the fancy, color-changing Hue bulbs that can cost an arm and a leg, but this is still strong savings on a bundle of bulbs for your home.
Here's some serious savings on some serious cans. Philips' Audio Fidelio X2HD over-ear, open-air headphones are built for hi-res audio, although they'll also work just fine with streaming music and other sources.

With 50mm drivers and memory foam earcups, these premium headphones usually cost a bundle… but right now, they're more than 50% off the usual $300 list price.
Now this is something you probably haven't seen by many bedsides. Philips' SmartSleep device is a light therapy station and wake-up light that connects with your smartphone.

It measures the conditions of your room to recommend ideal sleep settings, helps you fall asleep and wake up with distinctive lighting, and uses a smartphone app to let you customize the settings and view data. It's $20 off the list price at Amazon.
Pesky nose hairs popping out and bothering you? No worries: employ the Philips Norelco Nosetrimmer 3000, which at least sounds futuristic and menacing.

In reality, though, it's just a really basic and useful electric device that can gently clear out your nose hairs in a matter of minutes. This battery-powered trimmer is 20% off right now.
If you don't need the fancy color-changing bulbs and just want to get up and running with Philips' Hue smart lighting system, this starter kit can do the trick at a discount.

Right now, you can save $30 on this set, which has four A19 LED white smart bulbs and the Hue Bridge that connects to your wireless router, letting you control all of your home's smart bulbs from an app.
Get an epic brushing with Philips' Sonicare DiamondClean Classic, one of the company's higher-end electric toothbrushes. It's $35 off the list price right now in black, with white and pink colors also available (check prices on those).

It promises to clean your teeth up to seven times better than a manual toothbrush, with multiple brushing settings available. It also comes with a carrying case and a glass that you can both drink from and charge the toothbrush within. Handy!
Philips promises a "close, fast shave" with the Norelco 5100 Electric Shaver Wet & Dry, which sounds pretty great to me. Even better: it's $17 off right now.

The 5-direction flex heads are here to get the job done, and for the hairier individuals out there, the precision trimmer will come in handy too.
Philips makes an indoor barbecue grill that is smoke-less, relying instead upon infrared technology to heat the cooking grid. As a result, the drip dry remains cool underneath, further preventing smoke. But don't let infrared fool you— the grill heats up quickly to 446 degrees Fahrenheit.

And unlike a regular grill, this Philips indoor grill is not a nightmare to clean. Just wipe it down or toss it in the dishwasher. Best of all, it's 57% off right now and you get a free cleaning tool. Sweet.
You don't need to spend a bundle to get a Philips Sonicare electric toothbrush. The company's entry-level rechargeable model promises a 2x improvement in clearing plaque compared to manual brushing.

However, this one's much cheaper than some others—it's $16 off right now. Note that it uses Philips' screw-on heads rather than the snap-on versions used by some higher-end models.
Philips might be better known these days for smart lights and electric toothbrushes, but the company still makes headphones—and pretty great ones, too, if Amazon customer reviews are to be believed.
The Philips Audio SHP9500 HiFi Precision Stereo Headphones have 50mm neodymium drivers that are angled to match your ear shape, and they're currently down $15 from the list price.
Seeing as air fryers are all the rage these days, I had to find one to include. And this one by Philips takes the cake at $70 off. If you're out of the loop, air frying uses the circulation of hot air to cook food.

This method doesn't use oil, resulting in a lot less fat. And these seem to be popular results seeing as they've sold over 8 million units.
Save more than 50% off Philips' Avent 3-in-1 Electric Steam Sterilizer, which takes the hassle and stress out of making sure your baby bottles are ready to use.
The sterilizer can fit up to six 11oz Avent bottles, and takes just 6 minutes to kill 99.9% of germs and bacteria without any chemicals. Meanwhile, the modular design also makes it easy to sterilize pumps, pacifiers, and other accessories.
---