Best Tech Deals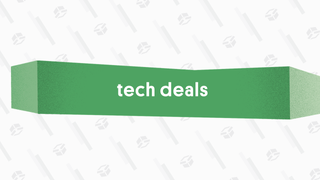 Best Tech Deals
The best tech deals from around the web, updated daily.
Featured Deal: PlayStation Plus 12-Month Subscription | $28 | Eneba | Promo Code XBOXFINALE

The best Sony PlayStation 4 deals of October 2020 are here.

It's official: the PlayStation 5 is coming on November 12, and anyone angling to have a next-gen console this holiday season is anxiously jumping at any pre-order opportunity that pops up (usually for mere minutes).

We feel you. But if you're also looking for some hot deals on PS4 games that you can play right about now, we can help you there. Big games such as Borderlands 3: Super Deluxe Edition, Resident Evil 3, and Death Stranding are on sale right now, along with some great accessories. These are today's best PlayStation 4 deals.
G/O Media may get a commission
Use code XBOXFINALE at checkout
A PlayStation Plus membership is essential if you want to play PS4 games online, but at $60 a year, it might seem a bit steep.
Luckily, you can grab a year-long membership now for just $28 through Eneba using the promo code XBOXFINALE. The subscription also grants you free games to download each and every month, which you can keep for as long as your Plus plan stays active.
You're running low on time to put in a pre-order to receive Assassin's Creed Valhalla at your door on the release date, November 10, and to save $10 in the process. Valhalla finally explores Norse territory in the historical open-world action series, plus you'll get a free digital upgrade to the PlayStation 5 version if you're planning on snagging new hardware anytime soon.

It's been a couple decades since the heyday of the Tony Hawk franchise, but you can relive the glory days at a discount thanks to the recently-released Tony Hawk's Pro Skater 1+2. This vastly-upgraded remastered bundle has both games along with online showdowns and a level creation suite, giving you plenty of terrain to roll through and trick off of. Save $6 off right now.

Get your farm on for cheap with this Harvest Moon: Light of Hope Special Edition Complete bundle, which brings together the core game and all add-on content. Amazon has it for less than half the list price right now, letting you start your own farm, tend crops, rebuild the town, romance the natives—and do it all without leaving the warmth and comfort of home. Nice.

Capcom saw the immense hype around last year's Resident Evil 2 remake and seemingly decided to fast-track another survival horror overhaul, resulting in this spring's Resident Evil 3. While not as widely acclaimed, it brings the PSone original into the modern era with terrifyingly sharp graphics and much-improved gameplay.

It's $20 off at Amazon right now. And if you didn't catch the RE2 remake, it's just $26 at Amazon.
Here's a bargain-basement pickup if you missed the original release a few years back. Deus Ex: Mankind Divided presents a stunning cyberpunk future in which your cybernetically augmented agent must track down terrorists. For $10, this could be a cheap warm-up for December's long-awaited Cyberpunk 2077… or a much more affordable alternative, really.

Deals on official Sony DualShock 4 wireless controllers are extremely few and far between these days, but at least you can save a few bucks on one right now at Walmart. Both the Magma Red and Green Camo styles are marked down $6 apiece as of this writing.
Death Stranding is a weird, weird game. The latest original creation from Metal Gear mastermind Hideo Kojima, it's an open-world adventure about… like, delivering packages in a post-apocalyptic America while being connected to a prematurely-born child, and there's ghosts everywhere… and you're the son of the U.S president?

Sound compelling? Allow us to make your decision a little bit easier by pointing you towards this half-off sale at Amazon.
It's pretty easy to fill up your PlayStation 4's hard drive with games, especially bigger AAA fare, but you can boost your storage tally at a discount right now.

Amazon has the WD Black 5TB P10 Game Drive for $25 off right now. This external hard drive plugs right into your console with a USB cable and lets you download and store potentially dozens more games for easy access.
You could spend a lot more for a PlayStation 4 headset if you see fit, but if you just want something basic for chatting with your Fortnite or Call of Duty Warzone squad, this could do the trick.
Turtle Beach's Ear Force Recon 50P is a simple plug-and-play headset that pops right into your controller, with an adjustable mic, 40mm drivers, and cushy earcups that'll hopefully keep you playing in comfort for hours. It's 17% off at Amazon right now.
Clip the coupon on the page
Stop hunting for a charging cable every time your PS4 gamepads run out of juice. Use BEBONCOOL's simple charging dock instead to ensure that your DualShock 4 controllers are always topped up.

This dock holds two controllers at once and takes about two hours to restore them to 100%. It's a mere $11 right now when you clip the coupon on the page.
With The Last of Us Part II now out, CD Projekt RED's Cyberpunk 2077 is easily the biggest PS4 game coming out for the rest of the year—and you can save $10 by pre-ordering now.

Cyberpunk 2077 is the latest open-world epic from the makers of the brilliant The Witcher 3, and there's an immense amount of hype around this stunning, futuristic sci-fi affair. Pre-order now and mark your calendar for December 10… and maybe pre-order this silly Funko Pop of Keanu Reeves' Johnny Silverhand character, and save $2 in the process.



---