Best Tech Deals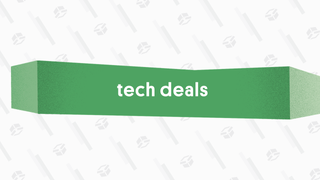 Best Tech Deals
The best tech deals from around the web, updated daily.
Featured Deal: Cyberpunk 2077 | $20 | Best Buy

The best Sony PlayStation deals for June 2021 are here.
The PS5 has been out in the wild for some months now, but good luck finding one: they've been popping in and out of stock at retailers, and they're likely to remain scarce for months to come. It's the usual console launch routine, but we wish you well if you're still on the hunt.
On the other hand, if you're looking for deals on PlayStation 5 and PlayStation 4 games alike, along with accessories, then you'll find stellar savings below.
Cyberpunk 2077 had a very rough launch in December, with the console versions in particular landing with big performance problems. CD Projekt RED has spent the past months fixing it up with more to come, so fingers crossed that PS4 players will be able to experience the futuristic open-world role-player like it's supposed to be enjoyed—and then a free PS5 upgrade is due later this year. You can currently snag the game for $20 at Best Buy and take a chance on its hopeful rehabilitation.

G/O Media may get a commission
Let's be honest: Watch Dogs hasn't been Ubisoft's most consistent open-world action franchise, but at a major discount, it can be much easier to overlook its flaws. Just released late last year, third entry Watch Dogs Legion is already marked down to $20 on both PS4 and PS5, plus it now has an online multiplayer mode to keep the action going on and on.

Mafia games always deliver compelling environments to explore for their mob-centric tales, and last year's Mafia Definitive Edition gives you a bold, modernized update to the original 1930s-set fictional city of Lost Heaven. Kotaku called it a great update of an awkward older open-world game, and at $20, it can help pass the time until we eventually… maybe… someday… get Grand Theft Auto 6.

Square Enix's anticipated new co-op shooter Outriders just came out in April, and Walmart is already shaving $50 off the list price on PS5 and PS4 alike. Reviews were largely positive about the intense action and role-playing elements, so if you're eager to get in and start grinding, jump on this bargain.
Use promo code 100USDSALE at checkout
Stock up on PlayStation Store credit at a discount with Eneba's deal on $100 gift cards, which you can snag right now for $90 apiece when you use promo code 100USDSALE at checkout. These codes are for the US PlayStation Store and can be used for games and other content.
Persona 5 is one of the most acclaimed role-playing games of this generation, and the enhanced Persona 5 Royal expands the experience for existing fans—and provides the most complete package for new players.

Like the base game, Persona 5 Royal follows a Japanese high school student throughout an academic year, as he and others manifest special powers and transform into the Phantom Thieves of Hearts—but this edition has new characters, locations, story elements, and more. Save $30 at Amazon.
What's two great games that play great together? Puyo Puyo Tetris! The sequel actually just released a few months back, delivering a stellar mash-up of classic puzzle games along with a dash of Sega goodness (see Sonic above). Save $20 on the PS4 version at Amazon.

In a bargain that we're dubbing the "always online" deal, right now you can snag a full year of PlayStation Plus along with lifetime access to KeepSolid's VPN Unlimited service for just $50. That's less than the list price for a single year of PlayStation Plus, while the KeepSolid service is valued at $199 on its own. VPN service routes your internet connection through an external server for increased privacy and security, so it's ideal for your computer and even your mobile phone.

Last year's biggest PS4 release, The Last of Us Part II is another blockbuster smash from Naughty Dog, featuring the kind of incredible emotional heft and attention to detail that made the first game and the Uncharted series so legendary. It's half-off at Amazon right now, and it runs even better on PlayStation 5 now.

One of the PS4's biggest 2020 exclusives, Ghost of Tsushima is a gorgeous open-world game set in feudal Japan, and the end result feels a lot like what an Assassin's Creed game might be were it to choose the era/setting. Right now, it's $20 off the list price at Amazon, and it has been enhanced for PlayStation 5 with a much smoother frame rate.

Ubisoft's latest historical action romp explores the Viking invasion of England with a dash of Norse mythology in the mix, and the result is another gorgeous, compelling adventure with exciting combat and loads to keep you busy. Right now, Amazon has one of last fall's biggest hits on sale for $30 on PlayStation 5 or PlayStation 4.

EA's inventive cooperative adventure about a married couple on the rocks is one of 2021's best-reviewed games. You'll have to play together in It Takes Two, as a husband and wife magically transformed into dolls, to survive challenges and hopefully reignite the flame in the process. Amazon is already taking 25% off the $40 list price.

It's pretty easy to fill up your PlayStation 4's hard drive with games, especially bigger AAA fare, but you can boost your storage tally at a discount right now. Amazon has the WD Black 4TB P10 Game Drive for $20 off right now. This external hard drive plugs right into your console with a USB cable and lets you download and store potentially dozens more games for easy access.
---