Best Tech Deals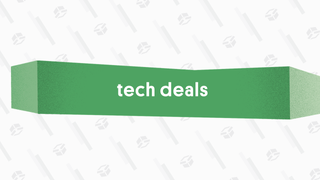 Best Tech Deals
The best tech deals from around the web, updated daily.
Featured Deal: TaoTronics SoundLiberty 53 Earbuds | $27 (clip coupon)
The best RAVPower and TaoTronics deals for August 2020 are here.
RAVPower, TaoTronics, VAVA, and Boltune collectively make a wide array of stellar products, from battery packs to headphones, projectors, and plenty more.
Right now, they've provided Kinja Deals readers with some amazing deals, inlcuding major savings on Bluetooth wireless headphones, a beefy portable battery pack, and more. Take advantage of these deals while they last!
Clip the coupon on the page

G/O Media may get a commission
AirPods are great, but not everyone wants to shell out that much cash for wireless earbuds. Luckily, TaoTronics has a much more affordable option with its SoundLiberty 53 Bluetooth 5.0 earbuds.

The earbuds provide six hours on a charge, but the charging case has another 44 hours to continue topping them up over and over again. They're IPX8 water resistant and have touch controls, plus Amazon customers are pretty pleased with them given the current 4.7-star rating. Clip the coupon to save $18 total off the list price.
Use promo code KINJAEB002 at checkout

If the pandemic has you missing fancy coffee drinks from your local shop, why not bring the action home? You can get started with this discounted electric milk frother from iTeknic.

Right now, you can save 40% off the list price by inputting the Kinja Deals-exclusive promo code KINJAEB002 at checkout.
Use promo code KINJAAP001

Save 50% on this Miroco brand air purifier with night light, which is ideal for small-sized rooms.

This HEPA filter can capture up to 99.97% of fine particles, and at the lowest fan speed in sleep mode, it's whisper-quiet at 30dB. Use promo code KINJAAP001 to knock $40 off the list price.
Clip coupon and use promo code KINJA2MF
TaoTronics' massage gun might be the ideal option if you need a better way to recover from workouts, or just a boost to get over aches and pains.

With a staggeringly positive 4.9-star rating from 1,700+ Amazon customers, this powerful massage gun could be a life-changer. It's $45 off right now if you clip the coupon and use promo code KINJA2MF at checkout.
Clip coupon on the page
You don't need to spend a bundle to get big, comfy, wireless cans with active noise-canceling smarts. Boltune's hybrid noise-canceling wireless headphones have cozy-looking cushions to ensconce your ears in sound, blocking the outside world in the process.

These Bluetooth 5.0 headphones have 45mm large-aperture drivers to push solid bass, and the built-in battery lasts for up to 30 hours. Boltune's headphones have a 4.5-star user rating on Amazon, and you can save $15 off the list price right now by clipping the coupon on the page.
Clip coupon on the page

Feeling short on ports on your laptop? Today's top laptops might only stick you with a couple of ports, but the VAVA USB-C 8-in-1 Hub should give you everything you need.

You'll have three full-sized USB ports (2x USB 2.0, 1x USB 3.0), a USB-C charging port, Ethernet port, HDMI port, and both SD and microSD ports. Clip the coupon on the page to shave $10 off the list price.
Clip the coupon on the page

Most smartphones are built to last through a solid day's usage, but if you're traveling, plan on playing a lot of games or streaming extensive media, or will be hammering it hard as a mobile hotspot, you should probably have an external power bank for a quick top-up.

RAVPower's 22,000mAh power bank is sizable, with the ability to charge a top-end phone like the iPhone 11 Pro or Samsung Galaxy S20 at least a few times over. You can also use it with tablets, GoPros, and various other devices as you please. Clip the coupon on the page to boost the total savings to $13.
Clip the coupon on the page

On the other hand, if you don't need the fully wireless sensation—or you're worried about losing the little buds—then maybe TaoTronics' connected wireless headphones are a better pick for you.

These Bluetooth 5.0 headphones are connected by a small cord that dangles along the back of your neck, and they're IPX6 splash resistant with up to 9 hours of battery life. Clip the coupon on the page to knock these down to a mere $10.
Clip the coupon on the page
Why shell out for AirPods Pro? Boltune's wireless earbuds offer noise cancelation and are much-loved by Amazon customers, with a 4.7-star rating and positive reviews for its bass response and battery life.
Clip the coupon on the page to save $15 off the list price.
Clip the coupon on the page
Wireless charging is one of the handiest perks of many premium smartphones, letting you get a battery top-up here and there throughout the day without reaching for a charging cable.

RAVPower's 10W Fast Wireless Charger comes with both the pad and the wall brick, letting you get set up with ease—and at a price of just $18 when you clip the coupon, you might want to pick up a couple to make sure they're always within reach.
---