Best Tech Deals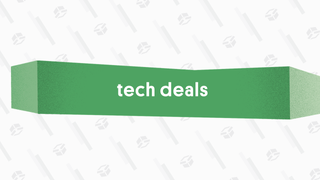 Best Tech Deals
The best tech deals from around the web, updated daily.
Featured Deal: VAVA EE08 Air Purifier | $110 (clip coupon + promo code: KINJAAP8)
The best RAVPower and TaoTronics deals for May 2020 are here.
You've probably seen the brands RAVPower, TaoTronics, VAVA, and Boltune while browsing Amazon, and collectively these sister brands produce a wide array of gadgets including power banks, charging bricks, earbuds, humidifiers, and plenty more - and they consistently undercut the competition on price while delivering quality, well-reviewed products.
Right now, you can get many of those gadgets for even less thanks to this wide array of current deals, including many Kinja Deals exclusives. You'll find loads of stellar sales below, so jump on these prices while they last!
Clip coupon and use promo code KINJAAP8

This is one of the absolute best deals on this list right now, as you can save a total of $40 on VAVA's new EE008 air purifier made for rooms up to 323 square feet in size.
This HEPA filter can do a quick dust reduction in just nine minutes via the anions mode, plus there are four fan speeds and two modes. Clip the coupon and input the Kinja Deals exclusive promo code KINJAAP8 to slice down the $150 list price to just $110.
Use promo code 30TOWERFAN2 at checkout

Summer is right around the corner, and if you're looking for a remedy to some of the surely-oppressive heat ahead, now's the time to strike.

Luckily, TaoTronics is offering Kinja Deals readers 30% off the list price of its 36" oscillating tower fan when you use the promo code 30TOWERFAN2. This tall guy has 65° wide angle oscillation and 20ft/s velocity, along with a large LED display and a remote.
Clip coupon and use promo code KINJA3D5

Charge with confidence with RAVPower's 61W USB-C Power Delivery 3.0 charging brick, which packs a whole lot of charging power into one small, highly portable brick.
At 61W, it'll handle many laptops and the Nintendo Switch, along with tablets, smartphones, and more, and right now you can save $17 off the list price on this highly-rated item by clipping the coupon and entering the exclusive promo code KINJA3D5 at checkout.
Use promo code KINJA515 at checkout

Get RAVPower's pint-sized travel router on the cheap right now with the promo code KINJA515, which chops $13 off of the list price.
You can use this travel router to create a wireless network while traveling, stream media from external storage, and facilitate a portable DLNA media server for your devices. Grab it while it's dirt cheap!
Clip coupon and use promo code KJVP4SAY

Why shell out for AirPods Pro? Boltune's wireless earbuds offer active canceling and are much-loved by Amazon customers, with a 4.6-star rating and positive reviews for its bass response and battery life.

Clip the coupon and enter the Kinja Deals exclusive promo code KJVP4SAY to save a total of $18 off of the list price.
Clip coupon and use promo code KINJA1538
Whether you need a charming humidifier for a kids' room or you just have a thing for whales (no judgment), this TaoTronics 2.5L cool mist humidifier and essential oil diffuser is just for you.

It provides up to 30 hours of cool mist and runs at a quiet 26dB, plus it has a built-in night light. Use promo code KINJA1538 after clipping the coupon to save a total of $10 off of the list price.
Clip coupon and use promo code KINJADZ9

Wireless charging is one of the handiest perks of many premium smartphones, letting you get a battery top-up here and there throughout the day without reaching for a charging cable.

RAVPower's 10W Fast Wireless Charger comes with both the pad and the wall brick, letting you get set up with ease—and at a price of just $12 when you clip the Amazon coupon and input promo code KINJADZ9 at checkout, you might want to pick up a couple to make sure they're always within reach.
Clip coupon and use promo code KINJAQ46

If you prefer large over-ear cans rather than earbuds, TaoTronics' wireless active noise canceling Bluetooth headphones are another low-cost alternative to pricier brands.

You can snag them for $50 right now by clipping the coupon on the page and using promo code KINJAQ46, chopping a total of $30 off the list price. These headphones promise a big boost kick, speedy charging, and 30 hours of battery life.
Use promo code KJRP0515 at checkout
Bring convenient wireless charging into your ride with RAVPower's wireless fast charger with a car mounting kit. This phone charger attaches to horizontal air vent slats and provides a cradle to not only hold your phone, but top it up all the while.

You'll get both the wireless charging cradle and the car charger itself in this bundle, which is 50% off right now when you use the exclusive promo code KJRP0515 at checkout. You'll need a wirelessly-chargeable phone, of course…
Clip coupon and use promo code KINJA585
Need to give your space a bit of a fresh spark? You don't need to spend a bundle to liven up the place, thanks to TaoTronics' LED Smart Lights.
You get 33 feet of warm white lighting along with a remote, and it won't set you back much in the process. Clip the coupon and use promo code KINJA585 to knock the price under $6.
Clip the coupon on the page
If you don't need the fully wireless sensation—or you're worried about losing the little buds—then maybe Boltune's connected wireless headphones are a better pick for you.

These Bluetooth 5.0 headphones are connected by a small cord that dangles along the back of your neck, and they're IPX7 splash resistant with up to 16 hours of battery life. Even a quick top-up, just five minutes on the charger, can give you up to two hours of usage.
---