Best Tech Deals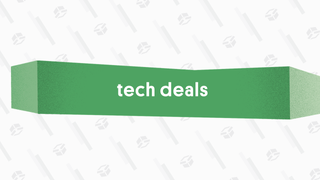 Best Tech Deals
The best tech deals from around the web, updated daily.
Featured Deal: TaoTronics 4L Cool Mist Humidifier | $25
The best RAVPower and TaoTronics deals for September 2020 are here.
RAVPower, TaoTronics, VAVA, and Homech collectively make a wide array of stellar products, from battery packs to headphones, projectors, and plenty more.
Right now, they've provided Kinja Deals readers with some amazing deals, inlcuding major savings on power banks, earbuds, desk lamps, and more. Take advantage of these deals while they last!
Use promo code SOUND55 at checkout

G/O Media may get a commission
Want active noise canceling on a budget? TaoTronics' wireless headphones deliver just that, blocking out sound while delivering what we found to be pretty good sound given the wallet-friendly price point on another model.

These lightweight over-ear SoundSurge 55 headphones can last for up to 30 hours on a single charge, with 40mm drivers that are sure to keep your attention as the hybrid active noise-canceling technology blocks outside distractions. Use promo code SOUND55 at checkout to knock $43 off the list price.
Use promo code 18AH024 at checkout

If you're spending a lot more time at home right now—like, oh, most of the rest of the world—then you'll want to make sure it's a comfortable place. For many people, that means having a humidifier cranked up to help with nasal congestion, itchy eyes, and skin dryness.

TaoTronics' 4L cool mist humidifier is ideal for this need, providing up to 50 hours of mist depending on output setting and running super quiet all the while. Use promo code 18AH024 to save $18 on the 4L model.
Clip coupon at checkout

Charge with confidence with RAVPower's 30W USB-C Power Delivery 3.0 charging brick, which packs a whole lot of charging power into one small, highly portable brick.

At 30W, it'll handle many laptops and the Nintendo Switch, along with tablets, smartphones, and more, and right now you can save a couple bucks off of the list price by clipping the Amazon coupon.
Clip the coupon on the page

AirPods are great, but not everyone wants to shell out that much cash for wireless earbuds. Luckily, TaoTronics has a much more affordable option with its SoundLiberty 53 Bluetooth 5.0 earbuds.

The earbuds provide six hours on a charge, but the charging case has another 44 hours to continue topping them up over and over again. They're IPX8 water resistant and have touch controls, plus Amazon customers are pretty pleased with them given the current 4.5-star rating. Clip the coupon to save $12 total off the list price.
Clip the coupon on the page

Wireless charging is one of the handiest perks of many premium smartphones, letting you get a battery top-up here and there throughout the day without reaching for a charging cable.

RAVPower's 10W Fast Wireless Charger comes with both the pad and the wall brick, letting you get set up with ease—and at a price of just $17 when you clip the coupon on the page.
Use promo code NEW19 at checkout

Some other portable power banks pack in a lot more storage, but if you want something pocket-sized, then RAVPower's 16,750mAh battery brick should do the trick.

It's only a little bit thicker than a smartphone itself and it'll hold about three to five full charges for most top smartphones today. The size makes it ideal for carrying around while traveling, plus you can even charge your phone while wandering along and using it—just make sure to carry a cord. It even has a flashlight! Just use promo code NEW19 at checkout to secure the savings.
Use promo code WHITE13 at checkout

Whether you're gearing up to go back to school or just need a sleek and useful desk lamp, you'll definitely want to check out what TaoTronics has in store here.

This LED desk lamp has 5 different color modes and 7 brightness settings, an adjustable design, and even has a USB charging port. Best of all, you'll save a whopping $28 off the list price of the white version of the lamp right now when you use the promo code WHITE13 at checkout.
Clip the coupon on the Amazon page

Most smartphones are built to last through a solid day's usage, but if you're traveling, plan on playing a lot of games or streaming extensive media, or will be hammering it hard as a mobile hotspot, you should probably have an external power bank for a quick top-up.

RAVPower's 26,800mAh power bank is enormous, with the ability to charge a top-end phone like the iPhone 11 Pro or Samsung Galaxy S20 several times over. You can also use it with tablets, GoPros, and various other devices as you please. Right now, it's $7 off the list price when you clip the coupon.
Clip coupon and use promo code CG7HO7G6

Feeling short on ports on your laptop? Today's top laptops might only stick you with a couple of ports, but the HooToo 6-in-1 USB-C hub should give you everything you need.

You'll have three full-sized USB 3.0 ports, a 100W USB-C PD charging port, an HDMI port, and a microSD card slot. Clip the coupon and use promo code CG7HO7G6 at checkout to save $6 off the list price.
Clip the coupon on the page

On the other hand, if you don't need the fully wireless sensation—or you're worried about losing the little buds—then maybe TaoTronics' connected wireless headphones are a better pick for you.

These Bluetooth 5.0 headphones are connected by a small cord that dangles along the back of your neck, and they're IPX6 splash resistant with up to 9 hours of battery life. Clip the coupon on the page to knock these down to a mere $10.



---