Best Tech Deals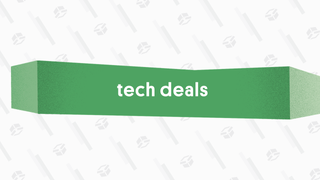 Best Tech Deals
The best tech deals from around the web, updated daily.
Featured Deal: Save 68% on 2 Years + Free Bonus Time | NordVPN
The best VPN deals for March 2021 are here.
If you've never seriously considered a virtual private network (VPN) in the past, then chances are good that it's crossed your mind over the past several months. With so many of us now working from home and spending a lot more time on our own devices, the idea of a little bit of web security is a tough one to ignore.
Luckily, VPN service can be very affordable, especially if you're willing to prepay for two or three years in advance. We've rounded up the best current VPN deals below, including promotions that offer free months of service, savings of 80% or more, and other perks.
NordVPN Deals | 68% off 2 Years + Free Bonus Time
Here's a unique bargain running through the end of February. Right now, you can save 68% off of NordVPN's two-year subscription plan, which means $89 upfront sets you up with its popular VPN service until at least this time in 2023.
At least? Yep: right now, when you sign up, you'll receive a random additional plan as a free bonus gift. It might be a free month, a free year, or two free years, but you won't know until you sign up for this subscription. Hey, whatever it is, it's free extra time on your account, and that means access to more than 5,500 servers across up to six total devices.
G/O Media may get a commission
Our readers love Private Internet Access, and right now you can get two free months added onto your subscription when you sign up for two discounted years. It's $70 for two years of VPN service, which is 73% off the month-to-month price, and then you'll get two extra months free. That's 26 months of service, earning you access to more than 25,000 international servers.
ExpressVPN | Save 35% on 12 Months
Praised by leading tech sites for its reliability and speed, ExpressVPN is one of the most popular VPN services around. It provides access to 3,000+ servers dispersed around the globe and spread across 94 countries, and right now you can save 35% off the month-to-month rate by paying $100 for a full year upfront.
From the looks of this image, you might think that TunnelBear has perhaps hired the wrong tech support staff. But based on the company's strong reputation, we're guessing you shouldn't worry much about some adorable bear mucking things up behind the scenes. In any case, TunnelBear's stellar VPN service is available in a three-year subscription for $120 upfront, which is a 67% savings over the usual month-to-month price.
Scare up an amazing deal on VPN service right now with CyberGhost. The popular VPN provider is delivering spooky-good savings on long-term service: right now, you can get three years of service along with three free months bundled in for just $88. That's $2.25 per month for 39 months, which means you're set into 2024.
Take advantage of this exclusive ZenMate VPN bargain today. Right now, you can sign up for a full year of service for $40 and snag six free additional months of service, protecting you nearly halfway into 2022.
ZenMate has no limits on number of simultaneous devices, with servers to connect to in 74 global locales and absolutely no logs kept.
Looking to lock in service until 2025? You can do it right now with this early Black Friday bargain from PureVPN. The company is offering service at 88% off the usual price, charging just $79 for five years of VPN service. That includes enterprise-grade security, letting you connect up to 10 devices at once to 6,500+ global servers across 140+ countries.
VyprVPN's "Chameleon" protocol technology helps you overcome government and corporate barriers, and right now you can snag a serious bargain: three years of VPN service for $60, which works out to $1.66/month. That's an 87% savings over the monthly rate and is good for up to five simultaneous devices with access to more than 70 server locations around the globe. Why surf with limits?
Use code KINJA15 at checkout

OVPN is a rising player in the VPN space, and they're serious about security. All of the company's servers are fully owned and locked into isolated racks, with no hard drives onboard. Other services might have more servers, but OBVPN says it expands capacity once it reaches 60% on any of 'em—so getting connected shouldn't be a problem.

Right now, Kinja Deals readers can save 15% off the usual annual rate by using code KINJA15 at checkout. You'll pay $51 upfront, which works out to nearly $4 per month.
You won't find another deal like this. FastestVPN is currently offering lifetime access to its service for $20. That's right: you'll pay just $20 now and have service for life. FastestVPN is a newer service than some of its storied contemporaries and doesn't have as many servers or locations up at this point, but this could be a heck of a smart investment if the service keeps growing into the future.
---