Best Gaming Deals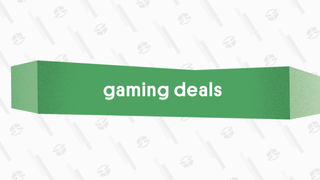 Best Gaming Deals
The best deals on games, consoles, and gaming accessories from around the web, updated daily.
Featured Deal: Xbox Wireless Controller | $50 | Microsoft
The best Xbox One game and accessory deals for July 2021 are here.
Whether you're rocking an Xbox Series X, Xbox Series S, or Xbox One, you might be looking for a fresh game to help pass the pandemic quarantine doldrums. Luckily, there are many recent releases on deep discount right now, including Mass Effect: Legendary Edition and Resident Evil Village, along with controller bargains. Have a look and keep on gaming!
If you need another controller for your Xbox Series X/S or Xbox One, Microsoft is currently taking $10 off the price of the current version of the Xbox wireless gamepad in Carbon Black. Official controllers don't often see savings, so this is a great opportunity to save a little cash while bringing friends and family into the fold.

G/O Media may get a commission
The first big game release of 2021 is a hit… and it's about hits, no less. Hitman 3 is trilogy-capping assassination sandbox, and it has scored rave reviews from critics for pairing a stronger narrative focus with the consistently entertaining contract-killing antics of Agent 47. Save $30 on a digital copy from Microsoft right now.

The original, bulbous Xbox controller is one of the least comfortable gamepads I've ever used, and I have large hands. But the 20-year-old 'pad holds a sweet spot in the hearts of some Xbox die-hards, which is why Hyperkin created this officially-licensed remake for the Xbox One and Series X/S. If you want to relive the glory days of the O.G. Xbox, it's $20 off the list price from the Microsoft Store right now.

Ubisoft's raucous, London-set open-world action affair is already $40 off from Microsoft, with the Xbox version of Watch Dogs Legion optimized for both Xbox One and Xbox Series X/S. You'll recruit the locals to fight back against a fascist regime in what's sure to be an entertaining pick, no matter which Xbox you're rocking right now.
Did you play the classic Mass Effect trilogy back when and want to relive it, or have you been waiting for the right opportunity? Here it is: BioWare has remastered the sci-fi series as Mass Effect: Legendary Edition, which comes with an array of enhancements and modernizations along with the visual upgrade, and right now it's $15 off for the digital version from Microsoft.

As our former colleague Giovanni Colantonio wrote, "You'd be a Titanfool to not buy Titanfall 2: Ultimate Edition for $4." The giant robot-packing first-person shooter, widely hailed as having one of the best first-person shooter campaigns of the last generation, is a mere $4 from Microsoft for the digital version. It also has great online action, too, and this version bundles in a bunch of extra content and boosts on top of everything. FOUR DOLLARS.

Right now, 2019's stellar original Star Wars adventure, Jedi Fallen Order, is just $16 for a digital copy from Microsoft. As young Cal Kestis, a Padawan forced into hiding following the events of the prequel trilogy, you'll search the galaxy for answers and become the Jedi warrior you were always meant to be. This is a strictly single-player adventure, unlike EA's earlier multiplayer-centric affairs.

Sega's beloved Japanese role-playing crime saga returns with Yakuza: Like a Dragon, a distinctive entry with a totally new lead character and the addition of turn-based combat. It has earned rave reviews for its intriguing world and compelling characters, and you can save more than half off the list price right now at Amazon or Best Buy.

Hoop it up even after the season ends with NBA 2K21, now marked down dramatically on Xbox One to just $13. 2K Sports' simulation series is a winner year in and year out, and this year's version brings an array of enhancements to the various play modes. Got an Xbox Series X or Series S? Go for the enhanced version for those consoles at $20, which is $50 off the list price.

CD Projekt Red's Cyberpunk 2077 delivers a compelling vision of a futuristic open world… but it's one that launched with loads of bugs. It's most problematic on the original Xbox One console and slightly better on Xbox One X and the new Xbox Series X/S, and that's already after some serious patching. More fixes are still due to come.

The only good side of the rough launch is that you can now pick it up for a mere $30 at Best Buy, although you're taking a gamble on future upgrades making a big enough difference in performance quality. Note also that a larger Xbox One X/S upgrade will be released for free later this year.
Just released last month, Resident Evil Village is the eighth core entry in the series and follows in the footsteps of the stellar Resident Evil 7: Biohazard. It's another first-person horror affair, this time in the sizable titular setting - although the castle with meme icon Lady Dimitrescu really steals the show. If you haven't already checked into this survival affair, it's $10 off at Amazon.

One of 2021's most unique games to date is also one of the best-reviewed games of the year. It Takes Two sees a struggling couple transformed into toys right as they're about to split, and they'll have to work together through clever cooperative challenges to escape their pint-sized forms—and maybe rekindle that old spark in the process. Save 25% at Amazon.




---