Best Gaming Deals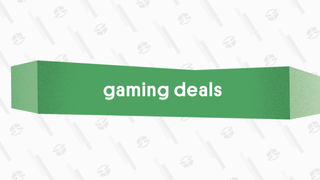 Best Gaming Deals
The best deals on games, consoles, and gaming accessories from around the web, updated daily.
Featured Deal: Xbox Game Pass Ultimate (3 Months) | $30 | Eneba
The best Xbox One game and accessory deals for October 2020 are here.

Xbox Series X and Xbox Series S pre-orders opened up recently, and if you're angling to put one of Microsoft's powerful new Xbox consoles in your home this holiday season, we hope you were successful. If not, we can point you towards the links to check frequently in the coming weeks. Do not abandon hope!
It may be tempting to give into the hype and start stashing away every penny for the next big thing, you can get your game on right now with the Xbox One without spending much cash. Below you'll find several killer deals on top Xbox One games, not to mention affordable accessories that'll keep you gaming without hassle or hurdles.
G/O Media may get a commission
If you game a lot on Xbox and/or PC, then you need Game Pass Ultimate in your life. It pairs the usual benefits of Xbox Live Gold (online play, free games to keep) with the incredibly valuable Game Pass subscription service, which serves up well over 100 games to download and play across Xbox One and PC. And that includes all of Microsoft's new first-party games, day one.

It's usually $15 a month, but right now Eneba has a three-month digital code for just $30. Whether you're adding to your existing subscription or starting a new, this is a sharp deal.
The Hawkman is back in action in Tony Hawk's Pro Skater 1+2, a rebuilt and remastered collection of the first two skateboarding game classics along with level creation tools, online play, and other goodies. It's already a discounted bundle compared to the full price of most new games, plus it's an extra 15% off right now via Amazon.

Tom Clancy's Rainbow Six Siege saw a mixed reaction when it first launched, but Ubisoft committed to continually improving the game, rapidly turning it into a fan favorite while fueling one of the fastest-growing esports scenes around.

Now you can jump on the bandwagon with this super cheap $10 digital code for the Deluxe Edition of the full game, including all of the updated content added so far. It's 75% off the list price right now. (FYI: Rainbow Six Siege was just added to Xbox Game Pass.)
Celebrate the return of real-life football with Madden NFL 21, the latest entry in EA's legendary sim series. Reviews suggest that there aren't significant changes compared to last year's edition, but if you have a digital pigskin itch to scratch, right now you can snag a digital code for the game for $20 off list at Amazon.

Just released a couple months ago, Marvel's Avengers is a surprisingly good licensed game inspired by the superhero team, seemingly taking cues from the cinematic version of the comic team without exactly copying the style and storylines.

Here, you'll play as young Ms. Marvel (Kamala Khan) as you rebuild and take control of the scattered team, plus there's an online co-op component and loads of unlockable costumes and gear. This super-premium edition with a Captain American statue, Hulk bobblehead, and other physical goodies is currently $58 off the original list price at Amazon.
If you've been waiting to pick up last year's acclaimed Gears 5, then now's a good time: it's more than half-off the original list price.

The latest Xbox One entry in the long-running shooter series shifts to a new lead heroine, Kait Diaz, and introduces larger open settings to the run-and-gun formula. Even so, this is still the Gears of War that fans know and love—and it looks better than ever. Alternately, grab the Xbox Game Pass Ultimate deal above and play it that way!
Running out of room for all of your downloaded and installed Xbox One games? Give yourself a bunch of breathing room with this WD Black P10 Game Drive, which has a sizable 5TB of space.

It plugs into your console via USB and can potentially hold a hundred of more games, depending on size. Right now, it's $24 off the list price.
Clip the coupon on the page
If you play your Xbox One a lot, then you inevitably bleed through your controller battery regularly. Sure, you could charge a rechargeable pack with a lengthy cable while playing, but here's another option.

BEBONCOOL's affordable battery bundle gives you two 2,550mAh packs—each pegged to provide 25+ hours of gaming—along with a charging cradle for both. That way, you'll never run out of juice. Save $2 by clipping the coupon on the page.
Here's a rare bargain on a new, official Microsoft Xbox One controller, this one featuring a dazzling red sheen that extends across the entire face of the gamepad. It's maroon across most of the back to add a distinctive accent. Right now, this gamepad is $15 off at Amazon, and it's the same price in Blue or Grey/Blue as well.
Don't get the title? Say it fast, we'll give you a sec. There you go. South Park: The Fractured But Whole looks and feels exactly like the source material, but like the previous game The Stick of Truth, it's an epic role-playing game.

This time around, it's based on a superhero premise, with the kids donning costumes to fight the city's evil forces. Reviews were great for this 2017 release, which you can now snag for less than $9 on Amazon.
If you're looking for a big single-player adventure to get lost in for the rest of the summer (and perhaps into fall), then don't miss out on this deal for The Outer Worlds. Released late last year, Obsidian's game is like a sci-fi spiritual successor to its cult-favorite Fallout: New Vegas, and received widely positive reviews from critics. It's half-off right now from Amazon.

This is a fantastic bargain on a game that, while a few years old, is still regarded as one of the Xbox One's top stealth action adventures. Dishonored 2 challenges to use a mix of stealth tactics and special abilities to safely navigate enemy-packed terrain in the dazzling fictional city of Karnaca. This acclaimed gem is just $10 right now at Amazon.

Whether it's to strategize with allies or prod your fallen foes, it's always ideal to have a headset handy for online multiplayer antics. If yours is faltering or you don't have one right now, then consider Turtle Beach's Ear Force Recon 50X. You can spend a lot more on a headset, certainly, but this $25 option has 40mm drivers, a clear and adjustable mic, and works with all kinds of devices. It's $5 off right now and has a strong 4.2-star rating from Amazon customers.
---