Best Gaming Deals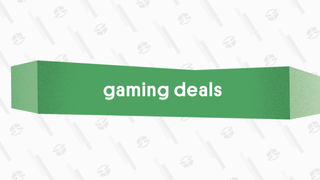 Best Gaming Deals
The best deals on games, consoles, and gaming accessories from around the web, updated daily.
Featured Deal: Watch Dogs Legion | $30 | Amazon
The best Xbox One game and accessory deals for Black Friday 2020 are here.

The Xbox Series X and Xbox Series S are both out now, and if you didn't secure a pre-order, then you might be frantically searching right now. Best of luck, if so!
It may be tempting to give into the hype and start stashing away every penny for the next big thing, you can get your game on right now with the Xbox One without spending much cash. Below you'll find several killer deals on top Xbox One games, not to mention affordable accessories that'll keep you gaming without hassle or hurdles. And you can play these games on Xbox Series X and Series S, too, complete with enhancements.
Ubisoft's raucous, London-set open-world action affair is already half-price at Amazon, with the Xbox version of Watch Dogs Legion optimized for both Xbox One and Xbox Series X/S. You'll recruit the locals to fight back against a fascist regime in what's sure to be an entertaining pick, no matter which Xbox you're rocking right now.

G/O Media may get a commission
10" LED Ring Kit
Suit up and take flight in Star Wars Squadrons, the recently-released EA game focused on outer space dogfighting. Whether solo in the cinematic campaign or online in the team-centric shootouts, Squadrons has been praised for its sharp action and for recapturing the excitement of the old-school PC sim entries. Save $23 right now.

Two decades after the last mainline entry, Crash Bandicoot is finally back with a fresh platform-action sequel. Crash 4: It's About Time keeps the classic template largely intact but explores some fresh terrain and mechanics, all with glossy modern graphics in tow. Snag this family-friendly pick for $20 off right now.

Released this month alongside the new Xbox consoles, Gears Tactics transplants the world and attitude of the Gears of War shooter series into a turn-based, XCOM-inspired strategy game. It's supposed to be a surprisingly effective concoction, and it'll run well on any Xbox One or Series X/S console you have. It's included with Xbox Game Pass, by the way, or you can get it for half-off on disc from Amazon.

EA Sports' latest entry in the FIFA soccer series is already discounted at Amazon, with the standard version of FIFA 21 marked down to $28. FIFA 21 doesn't make huge strides over the previous version, but footie fans will no doubt want to have the latest version in front of their eyes. And it'll upgrade to the Xbox Series X/S edition at no additional cost, too.
Just released a couple months ago, Marvel's Avengers is a surprisingly good licensed game inspired by the superhero team, seemingly taking cues from the cinematic version of the comic team without exactly copying the style and storylines.

Here, you'll play as young Ms. Marvel (Kamala Khan) as you rebuild and take control of the scattered team, plus there's an online co-op component and loads of unlockable costumes and gear. Save $33 right now.0
Running out of room for all of your downloaded and installed Xbox One games? Give yourself a bunch of breathing room with this WD Black P10 Game Drive, which has a sizable 5TB of space.

It plugs into your console via USB and can potentially hold a hundred of more games, depending on size. Right now, it's $30 off the list price.
If you play your Xbox One a lot, then you inevitably bleed through your controller battery regularly. Sure, you could charge a rechargeable pack with a lengthy cable while playing, but here's another option.

BEBONCOOL's affordable battery bundle gives you two 2,550mAh packs—each pegged to provide 25+ hours of gaming—along with a charging cradle for both. That way, you'll never run out of juice.
Here's a rare bargain on a new, official Microsoft Xbox One controller, this one featuring a chill grey scheme with a bit of the classic Xbox green poking through from beneath the analog sticks. Right now, this gamepad is $20 off at Amazon.

Don't get the title? Say it fast, we'll give you a sec. There you go. South Park: The Fractured But Whole looks and feels exactly like the source material, but like the previous game The Stick of Truth, it's an epic role-playing game.

This time around, it's based on a superhero premise, with the kids donning costumes to fight the city's evil forces. Reviews were great for this 2017 release, which you can now snag for less than $9 on Amazon.
If you're looking for a big single-player adventure to get lost in for the rest of the summer (and perhaps into fall), then don't miss out on this deal for The Outer Worlds. Released late last year, Obsidian's game is like a sci-fi spiritual successor to its cult-favorite Fallout: New Vegas, and received widely positive reviews from critics. It's $40 off right now at Amazon.

Whether it's to strategize with allies or prod your fallen foes, it's always ideal to have a headset handy for online multiplayer antics. If yours is faltering or you don't have one right now, then consider Turtle Beach's Ear Force Recon 50X. You can spend a lot more on a headset, certainly, but this $25 option has 40mm drivers, a clear and adjustable mic, and works with all kinds of devices. It's $5 off right now and has a strong 4.3-star rating from Amazon customers.
---